Legislative Update:
What a great time last week at the McHenry County Fair! Thanks to everyone who came out to our open office hours at the fair and said hello! This week I was in Chicago on Wednesday for a Personnel & Pensions Committee Meeting – meanwhile down the street Mike Madigan's former Chief-of-Staff was on trial for perjury. I'll talk about both below. Also, in this week's Hot Topic of the Week, thanks to a recent audit, we finally know how much fraud there was in the unemployment system during the pandemic (spoiler alert: it's a lot).
---
Madigan's Chief-of-Staff's Federal Trial Starts This Week in Chicago
This week the trial in Federal court against former Madigan chief-of-staff and Democratic Party of Illinois Executive Director Tim Mapes began in Chicago. Tim Mapes is facing federal charges after allegedly lying to federal law enforcement to protect his former boss, Mike Madigan. This is just the latest case in a string of corruption cases over the past several years in Chicago, all of which are leading up to the main event, which of course is Mike Madigan's trial which is scheduled to begin next April.
As the Mapes trial got underway, Illinoisans finally started to get a clear look at the way Madigan and his cronies operated in Springfield. These federal cases have reminded all of us, as if we needed reminding, of the expensive cost of corruption in Illinois government. To truly get rid of the culture of corruption in Springfield, it's going to take more than a handful of trials, it's going to take true anti-corruption reforms that hold elected officials accountable, prohibit any conflicts of interest, and provide much broader transparency.
You can read more about the trial here.
---
Personnel & Pensions Committee
This week the Personnel & Pensions Committee met and heard testimony on the Safe Harbor provisions and how it affects Tier 2 employees in our pension systems. Administrators from each of the state pension systems, as well as the Chicago Teachers' Pension Fund, testified and gave our committee details on their individual financial situations. As a quick reminder, the federal government sets standards for employer retirement plans that allow for those employers to not enroll their employees in social security.
I was able to ask questions about each pension system, drilling down to the specifics of each of them. Our ultimate goal is to get information that will allow us to reform our Tier II benefits in the most fiscally responsible way while maintaining compliance with Federal law. My main concern at this point is to make our Tier II benefits compliant with the Federal provisions while not making changes that result in benefit "enhancements". If we grant benefit enhancements that are far and away more than the safe harbor provisions would require, those benefits would then be guaranteed by our constitution's pension clause and could never be cut back. If we're going to increase benefits (and at some point we are going to have to if we're going to attract and retain good employees), that should come in separate legislation. We must get these changes right the first time, because once a benefit is granted, it is there to stay.
---
Hot Topic of the Week:
Unemployment System Audit Reveals $5.2 Billion in Fraud
Anyone who was paying attention throughout the pandemic would have noticed major problems – people who needed unemployment couldn't get through to an office while many people who were still employed were getting notices that someone had fraudulently gotten unemployment payments by stealing their identity. Now, after a revealing audit, we know the full extent of the Unemployment Insurance fraud during the pandemic. That audit estimates there were $5.2 Billion dollars sent out fraudulently in unemployment insurance payments, just here in Illinois. This level of fraud is completely unacceptable, but for those of us who heard these stories every day I'm not surprised. That's why House Republicans have been asking for an accounting of the fraud from the beginning.
More than $40 million dollars were paid to people who were in prison and 481 dead people received unemployment checks. This was made possible because the normal safeguards against fraud like cross-checking databases of those who are incarcerated were abandoned during the pandemic in order to expedite payments.
So what now? Businesses in Illinois are facing higher unemployment taxes to cover the depleted Unemployment Trust Fund but they should not be on the hook for fraud in the system. Taxpayers and employers in Illinois deserve better and the Pritzker administration must be held accountable. After all, it happened on his watch. He can't blame this one on the prior administration.
You can read more about the audit here. 
---
Happenings Around McHenry County:
Illinois Railway Museum's Rides After Dark
If you are a certified train geek like I am, you need to circle your calendar for Labor Day weekend. On September 2-3, the Illinois Railway Museum will remain open late and will be operating special trains after dark, carrying museum visitors until 9:30pm. Take a step back in time and experience the thrill of rail travel as it used to be. Find more info here.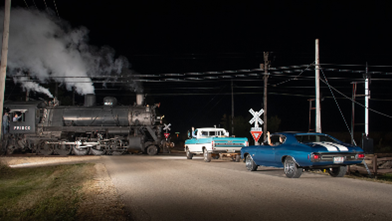 ---
Sept. 1 Screening of Documentary Highlighting Local Agency's Work Fighting Addiction
Rob Mutert, owner of Warp Corps in Woodstock, has been fighting the opioid crisis since 2017 through his approach of prevention through engagement. Recently, his work was noticed by a filmmaker and the result is a short documentary appropriately titled "Prevention Through Engagement," which is receiving some attention at film festivals nationally and internationally.
The film can be viewed locally at a private screening at 8 p.m. Friday, Sept. 1, at the Woodstock Opera House. Tickets cost $25 for general admission and $60 for VIP which includes pre- and post-show cocktail hour and priority seating. Tickets are available through the Woodstock Opera House website at: Woodstockoperahouse.com.
Rob's been doing heroic work here in Woodstock and deserves our support.
---
Stay Up To Date:
Like what you see? Please share this update with your friends and family. If someone forwarded this e-mail to you, please sign up for my newsletter or send me a message by clicking here: https://www.ilhousegop.org/contactreick. With this weekly Reick Report, I aim to give you a quick and easily digestible update on what is happening at the State Capitol, the top issues in our local area, and how you can get engaged.