Legislative Update:
SAFE-T Act Ruled Constitutional
On Tuesday, the Illinois Supreme Court issued its ruling on an altogether predictably partisan basis (5-2), upholding the constitutionality of the "SAFE-T Act", a 2021 law passed by the Democrats in the General Assembly in the wake of the George Floyd riots that, among other things, ended cash bail throughout Illinois. It is now scheduled to go into effect on September 18.
Without going into the details of the opinion itself, I'm just going to say that it's not the Supreme Court's job to overturn a statute simply because we woke up one morning to realize how stupid and outright dangerous this law will probably prove to be.
Living as we do in a time of a huge increase in street crime and gun violence in Chicago, where the Cook County States Attorney finds any reason she can to not prosecute crimes when they land at her door and with the Chicago Police Department having a hard time filling its ranks, I can see where the Cook County sheriff has an argument for supporting this bill. I probably wouldn't have had a problem with it myself had it been limited to Cook County. But to expand it statewide ignores the reality of the differences between Cook County and downstate and will in all likelihood have a devastating effect upon judicial administration throughout Illinois.
The rhetoric following the decision has been just as predictable as the decision itself, with Republicans condemning it as judicial overreach and Democrats praising it as the dawn of a new age criminal justice reform. In fact, it's neither. While I'm disappointed in the outcome, as it points out the worst aspects of having an elected Supreme Court and extends a policy that may be appropriate for Cook County but not statewide, I think that the ruling itself was the correct one from the standpoint of pure judicial review.
Judicial activism is the last refuge of those who can't convince voters to give them what they want through the ballot box. We've seen it far too often to not recognize it when we see it, and it needs to be avoided.
No, depending on your point of view, credit or blame for this law falls squarely on the shoulders of the Illinois General Assembly acting within the powers granted to it by the voters who put them there. It's often said that we get the government we deserve. Vox populi, vox dei.
---
The Bailout is Over
A couple of weeks ago the Commission on Government Forecasting and Accountability published its monthly report on the state's financial outlook, warning the Legislature that the financial sugar rush that Illinois has been experiencing from the money it's received from the Federal government is not expected to continue. Though recent state budgets have included significant spending increases, the actual revenue at the end of the last fiscal year from state sources was trending down.
So what does this mean? The federal dollars that artificially boosted the state's budget are done. The bailout is over. And, if we keep up our anti-competitive policies, we can expect to see our state revenues continue to decrease.
---
Hot Topic of the Week:
Do Audits Even Matter? The Need for Increased Accountability in State Government
After devastating failures at State agencies, like a deadly COVID outbreak at a Veterans' home, children dying under DCFS care, years'-longs wait times for FOID cards, or the inability for those forced onto unemployment being unable to contact the state agency, we hear about the demand for an audit to see what went wrong.
Each agency within our state government is subject to routine audits that look to see if they are complying with their statutory requirements. However, I've noticed within my time in the legislature that these audits have routine findings that go unaddressed. That means that year after year agencies are not complying with what statute requires of them even after it is brought to their attention. This needs to change. So, one of two things must happen. Either the agency must come into compliance with the audit finding or if they demonstrate that requirement is no longer necessary, we should take it out of state law.
Recently there was an article from the Center Square about this problem of audit findings. In the article, the Democratic co-chair of the Legislative Audit Commission proposed that the budgets of these agencies should be cut if they cannot come into compliance. That would be a good start.
I'm ready to work with anyone in the General Assembly to hold our state agencies accountable and to make sure they are providing the services required of them. Having them comply with audit findings is just the beginning of that work.
---
Preview of Coming Attractions:
This week I participated in hearings of the Joint Committee on Administrative Rules (JCAR) and the Personnel and Pensions committee. Both hearings touched on topics that deserve in-depth discussion, which will be the subject of my next Reick Report.
---
Transportation Services Are Available for Seniors and Disabled
MCRide Dial-a- Ride is a great way to get around McHenry County. Whether you need transportation for work, school, shopping, medical appointments or just to visit a friend, MCRide provides an affordable and flexible way to travel! It is one of the best kept secrets in McHenry County.
As a dial-a-ride program, MCRide service is a coordinated countywide paratransit service, and vehicles do not travel in a fixed route each day. Riders schedule their trips in advance and the vehicle provides curb-to-curb service from the rider's desired pick-up and drop-off destinations. MCRide is a shared-ride service, so vehicles may make stops for other passengers.
Our office has fare cards available to District 63 residents, and it is our policy to make these cards available only to the disabled and senior citizen population. We can offer 5 cards per constituent per month at no charge. A fare card is good for a single-ride from one point in the MCRide service area to another point in the service area. MCRide fare cards are NOT valid on Metra, CTA, Pace fixed bus routes (e.g., 806, 807, 808, 550) or any other dial-a-ride program.
For more information on this program, including hours, fares and contact information, visit the McHenry County Department of Transportation's website:
If you would like to obtain cards from our office, please call us at 815-880-5340.
---
Fiesta Days Happening Now!
This year marks the 75th Anniversary of McHenry County's Fiesta Days! Join in on the last few days of fun. For more information, visit their website at https://mchenryfiestadays.com.
---
Upcoming Events
I would like to invite you to a free Tele-Town Hall Meeting I'll be hosting on Wednesday, July 26 at 6pm with State Representative Jeff Keicher. During the call, we'll provide a legislative update and answer your questions live over the phone.
You can join in the discussion by dialing in at 1-(888) 231-5462.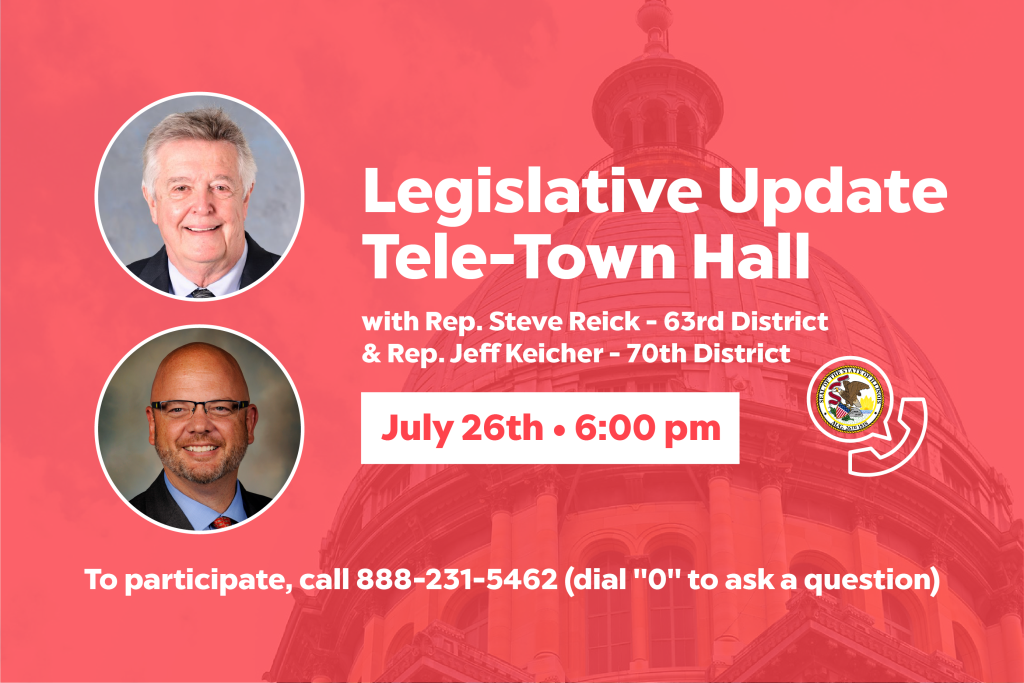 ---
Stay Up To Date:
Like what you see? Please share this update with your friends and family. If someone forwarded this e-mail to you, please sign up for my newsletter or send me a message by clicking here: https://www.ilhousegop.org/contactreick. With this weekly Reick Report, I aim to give you a quick and easily digestible update on what is happening at the State Capitol, the top issues in our local area, and how you can get engaged.