Hot Topic of the Week: Governor Pritzker Steps in It and Proves a Very Valid Point
"The first lesson of economics is scarcity: There is never enough of anything to satisfy all those who want it. The first lesson of politics is to disregard the first lesson of economics." – Thomas Sowell: "Is Reality Optional? and Other Essays"
This week's hot topic focuses on the emergency rules issued by the Governor limiting the scope of the program to provide Medicaid-like health coverage to illegal aliens. I noted in my previous Reick Report, the sponsor of the bill that established the program initially touted the cost at $2 million per year, but it has ballooned to an estimated $1.1 billion per year.
Implementation of the program was delayed until January so that half of the 1.1 billion would fall into the next fiscal year. Still, that wasn't enough to keep it from blowing up this year's budget.
The emergency rules seek to limit the cost of the program with the following:
A "temporary" enrollment pause. When the new fiscal year begins July 1, new eligible residents ages 42 to 64 won't be able to sign up.
The state will cap at 16,500 the number of seniors who can enroll.
Everyone enrolled will have to start paying copays of $100 to $250 for hospital visits that are not eligible for matching federal reimbursement.
No sooner had he issued the rules than the condemnations started to cascade from the rafters. From a story on the WTTW website, Tovia Siegel, director of the Healthy Illinois Campaign, said the qualifiers are "rooted in bias and were made without consultation of advocates."
No, they're not. The original plan extending Medicaid coverage to those over 65 was passed in the 101st General Assembly as part of the Budget Implementation Act (BIMP) without discussion or debate. It was expanded to those 55-64 in the BIMP passed in the 102nd General Assembly, again without discussion or debate. Finally, it was expanded to those from age 42 to 54 by Public Act 102-1037.
All told, the Administration's estimate of costs for the 3 programs combined was $210-$260 million per year, a far cry from the sponsor's initial estimate, but still far short of reality. Those estimates had to come from somewhere, and they certainly did not come from testimony in committee or anywhere else where questions may have been raised.
Those estimates most likely came from consultation with the so-called "advocates" mentioned above who knew that if an honest estimate of future enrollment was disclosed, these bills would never have seen the light of day. To now say that limitation on those costs comes from bias is an insult and not worthy of a response.
The Governor's just been sworn into his second term and has three years for the public to forget about how badly it's being gouged (after all, how many of us who pay for insurance get away without co-pays?). He can afford to take the heat from a political constituency that he's pandered to since the day he first took office, while that political constituency gets part of what it wants and is willing to play the long game to get the rest.
All the players in this elaborate Kabuki dance know their roles and are playing them quite well because you can't tell me that they didn't see the writing on the wall long before these rules were issued. Somewhere along the line, the two sides will come to some sort of accommodation which will give that constituency more of what it wants, and since the bill conveniently waived the 24-month limitation on issuing new rules on a similar subject, the Governor will be able to do it immediately.
From an administrative standpoint, it's really no different from his issuance of 40-some consecutive disaster declarations stemming from COVID, but it will be under the authority of administrative rule and not in the light that comes from full debate and a vote by the General Assembly.
---
June 15th I-Cash Event Was a Great Success!
On June 15th, my office hosted an "I-Cash" event in conjunction with the Illinois Treasurer's office where constituents could see if the state was holding assets (life insurance proceeds, refund checks, bank accounts or the like) that might belong to them.
We had a great turnout and were able to identify over $40,000 in claims that will be returned to their rightful owners. If you missed the event and think you might have a claim, please contact my office by calling (815) 880-5340 or sending us an email.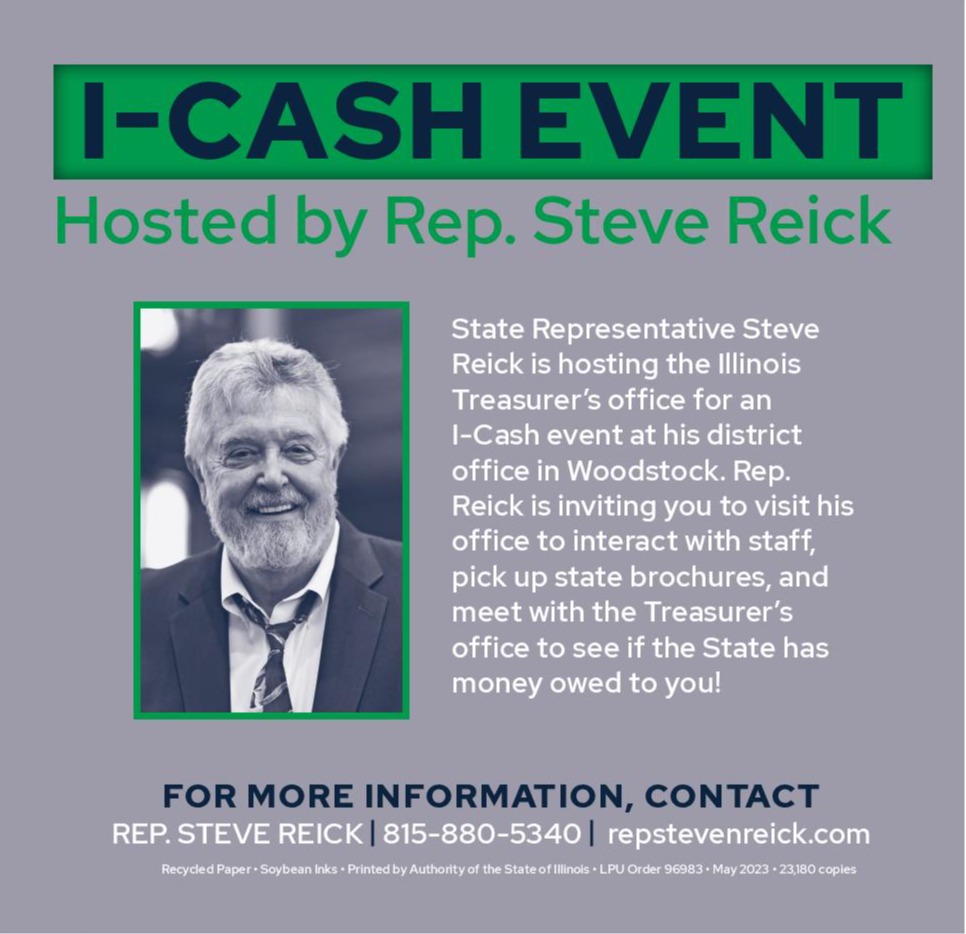 ---
Mobile Office Hours Are Back
It's not always easy to come to my office, so we're taking our office on the road.
This Wednesday, June 28th, I'll be at the Cary Area Public Library from 10:00 until noon to meet with constituents and discuss their concerns.
If you have issues with state agencies that need to be addressed or would just like to air your thoughts about what's going on in Springfield, I'd like to have the chance to talk to you.
No appointment is necessary, just come on in. I'm looking forward to meeting with you.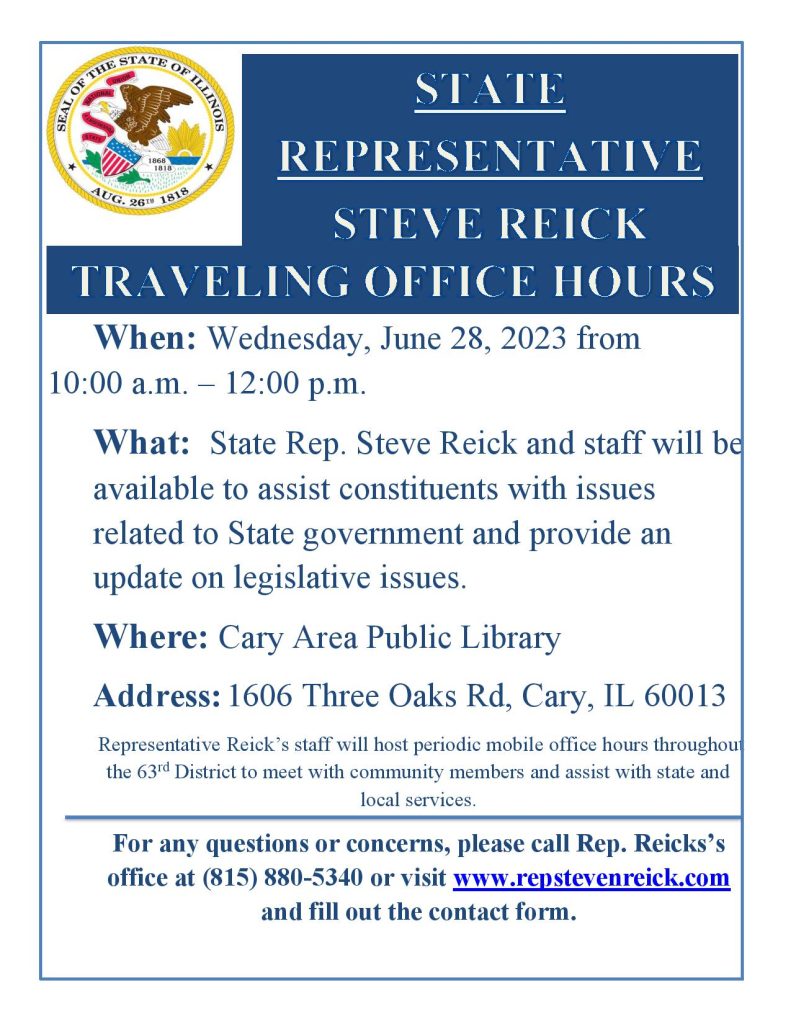 ---
The Best 7 Hours of the Summer!
It's time to talk about something other than state government. For many here in McHenry County, nothing says "Summer" like the Gavers Community Cancer Foundation's "Barn Dance".
The GCCF has no paid directors, officers or employees. It's purely volunteer and in its 23-year history has raised over $9.1 million, all of which goes to raise cancer awareness, help improve cancer care to local residents and help fund cancer research.
The centerpiece of its fundraising effort is the Barn Dance, an event that provides food, fun and great entertainment, along with raffles and auctions, all for the purpose of increasing cancer awareness and providing resources to continue the fight.
This year's event will take place on Saturday, July 15 at Emricson Park in Woodstock from 5:00 until midnight, and will be back under the big tent (and I do mean big!) Rain or shine, it's a great event for a great cause. You can buy tickets here.
Trust me when I tell you that if you haven't been to the Barn Dance, this is one event you don't want to miss.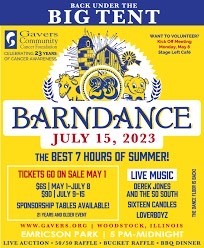 ---
Stay Up To Date: 
Like what you see? Please share this update with your friends and family. If someone forwarded this e-mail to you, please sign up for my newsletter or send me a message by clicking here: https://www.ilhousegop.org/contactreick. With this weekly Reick Report, I aim to give you a quick and easily digestible update on what is happening at the State Capitol, the top issues in our local area, and how you can get engaged.