Reick Earns Perfect Score on IL Farm Bureau Legislative Report Card; Named "Friend of Agriculture"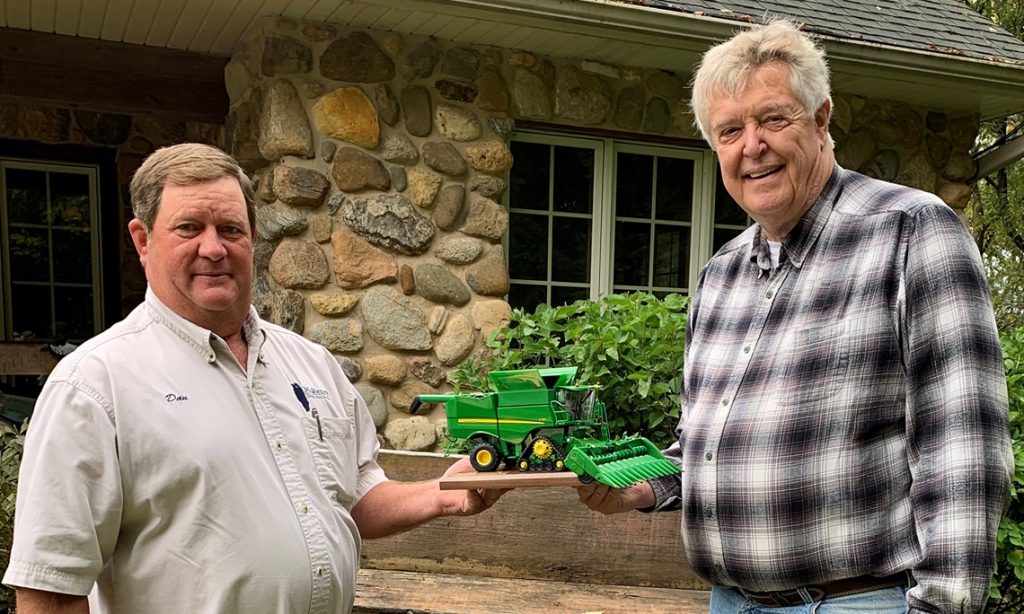 Agriculture is the number one driver of our economy, and as a legislator, I work hard to support our farmers. While attending an event in Harvard on Sunday, I received the "Friend of Agriculture" Award from the Activator Program of the Illinois Farm Bureau. Dan Ziller, President of the McHenry County Farm Bureau, presented me with the award and said I had earned a perfect score on the IL Farm Bureau's legislative report card. The award is based on each legislator's voting record in the 101st General Assembly on issues facing the farming community. There were 11 bills considered under this year's voting criteria, including legislation on the minimum wage, the graduated income tax, and legislation affecting ethanol plants and the department of labor. Legislators receiving this award recognize the far-reaching benefits of Illinois' agricultural products and the important role farmers play in providing quality food, fiber and fuel for the state, nation, and world.
We are fortunate here in McHenry County to have an extremely active farm bureau. In existence since 1912, the McHenry County Farm Bureau is the third-oldest farm bureau in Illinois, and one of the oldest bureaus of its kind in the United States. It is a non-profit organization that represents over 850 farming families in McHenry County. I appreciate the acknowledgement of my efforts to support agriculture in Illinois, and look forward to continuing with this important work.
Rep. Steve Reick Hosts Successful Vote by Mail Q & A
Thank you to everyone who tuned in for the Vote by Mail Q & A I hosted with McHenry County Clerk Joe Tirio last week. Mr. Tirio outlined the process his office is using to implement this new expansion mandate, and we spent about 45 minutes answering questions from listeners. If you could not tune in for the live event, you can click here to watch a recording of it.
The County Clerk's office has a useful "Elections" page, which includes all kinds of information to help voters. You can view a sample ballot for your precinct, verify your polling place and polling place hours, etc. Click here to see that site. If you have further questions, please contact my office at Reick@ilhousegop.org or (815) 880-5340.
Rep. Reick Earns 98% Rating from IL Manufacturers' Association; Named "Champion of Manufacturing"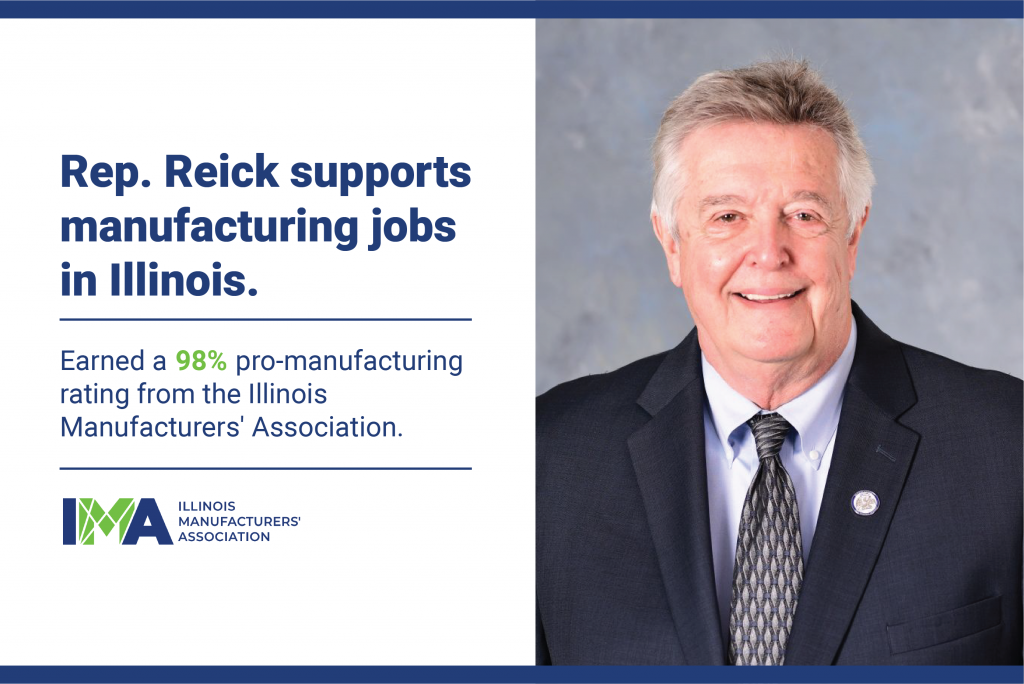 I was pleased to learn recently that I was named a "Champion of Manufacturing" by the Illinois Manufacturers' Association (IMA) based on the votes I took in 2019-2020 that affect the manufacturing sector. Members of the General Assembly were scored on their votes on 34 different bills that were brought forward during the 101st General Assembly, and those receiving a score of 80% or higher received the award. I'm proud to say I received a 98% rating.
It's an honor to be recognized for my work to help manufacturing companies locate and grow in our state. Upon announcing the award recipients, IMA President & CEO Mark Denzler said, "Manufacturers have a champion in State Representative Steve Reick, who has consistently voted in support of local businesses and manufacturers in the 66th District. He understands the need to balance a budget and helped pass important measures like the Manufacturers Purchase Credit and Research & Development credit to help attract good-paying manufacturing jobs across the state."
The IMA is a not-for-profit trade association for Illinois manufacturers. Founded in 1893, it is the oldest and largest statewide manufacturing trade association in the United States. The IMA's mission is to strengthen the economic, social, environmental and governmental conditions for manufacturing and allied enterprises in the state of Illinois, resulting in an enlarged business base and increased employment. Click here to view the full scorecard and a list of bills that were judged.
S&P Global Ratings Suggests Junk Bond Rating Possible for Illinois
The New York City-based global credit rating firm has already rated Illinois general-obligation (GO) bonds at BBB-, the lowest investment grade possible. Any further credit downgrade by S&P would push Illinois' GO bond rating into "junk bond" territory, labeling the State as a borrower with serious risk of default. Characterization of debt as "junk" makes the debt unsuitable for many investment purposes, including pension funds. 
In a report published last week, S&P looked at the State of Illinois' structural budget deficit, which has been worsened by spending pressures and tax yields created by the COVID-19 pandemic. More than $130 billion in unmet pension obligations and more than $7.6 billion in unpaid bills are among the fiscal burdens that have built up over many years in Springfield. Comparatively weak demographic trends, with an aging population and significant outmigration of young adults to more job-friendly states, were also tagged by S&P.
As a response to the coronavirus pandemic, the Democrat-controlled General Assembly authorized Gov. Pritzker's administration to borrow billions of dollars from the U.S. Federal Reserve's Municipal Liquidity Facility, an emergency lending window created by Congress in spring 2020 as a provider of short-term cash to public-sector borrowers who cannot get credit from the private sector. These Municipal Liquidity Facility loans are supposed to be short-term loans that will be paid back within three years. However, S&P's analysts registered doubts as to whether the State of Illinois will be able to repay the Facility without further assistance. The debt-rating agency reached somber conclusions as to Illinois' ability to solve its budget problems on its own.
Drivers' License Deadlines Further Extended; No Extension for Vehicle License Plates
Due to challenges Illinois drivers are having with renewing expired driver's licenses, the Secretary of State has announced a further extension to the renewal deadline. Expired driver's licenses will now remain valid  until February 1, 2021. The extension also applies to non-driver personal ID cards. Illinois drivers' licenses had previously been extended until November 1, 2020.
The small decal stickers that Illinois drivers attach to their motor vehicle license plates to show that the car has been licensed are separate from drivers' licenses. These car license plates and decal stickers have also been extended, but only until November 1, 2020, and no further decal sticker extensions will be granted. The Secretary of State's office says that almost all Illinois motor vehicle decal stickers are ordered online or by mail, and the current pandemic is not changing the way these stickers are purchased and delivered.
Trout Fishing Season to Open Oct. 17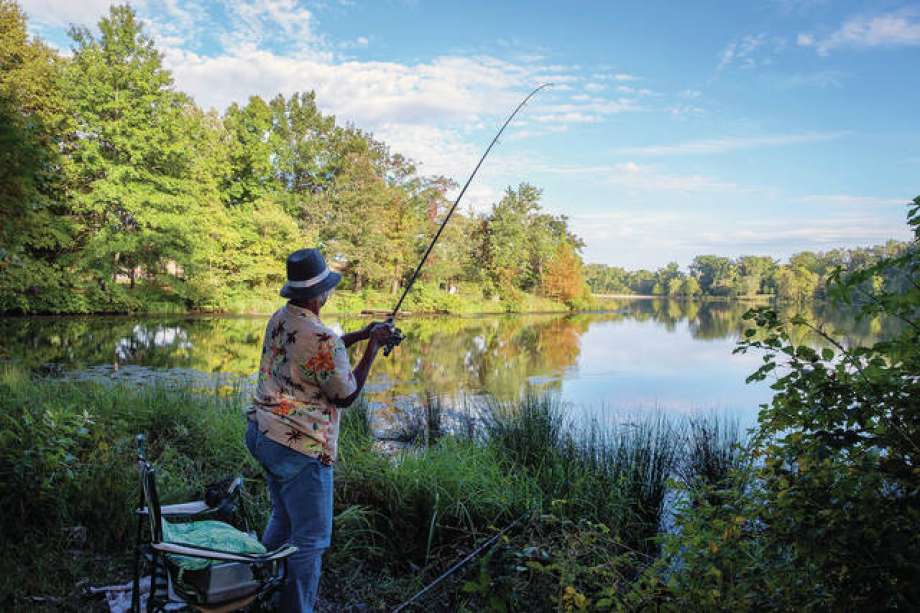 The Fall Trout Fishing Season opens Saturday, Oct. 17 at more than 50 ponds, lakes, and streams throughout the state. An early opportunity at select trout sites – the Fall Catch-and-Release Fishing Season – will open Oct. 3 at locations marked with an asterisk on this list. No trout may be kept during the catch and release fishing period, but anglers can keep trout after the opening of the regular season beginning Oct. 17.
All anglers — including those who intend to release fish caught before Oct. 17 — must have a valid fishing license and an Inland Trout Stamp, unless they are under the age of 16, blind or disabled, or are an Illinois resident on leave from active duty in the Armed Forces. The daily catch limit for each angler is five trout.
Secretary of State and IL Treasurer Announce Extended Waiver of E-Check Payment Processor Fee
The Illinois Secretary of State and IL Treasurer have partnered with National Cash Register (NCR) to remove the e-check payment processing fee through the remainder of 2020. Since the payment processor fees were first waived on May 5, the number of transactions conducted online and paid with e-checks have nearly tripled compared to the same period in 2019. The e-check payment processor fee will be waived for the following online services:
renewing a vehicle registration
obtaining a duplicate driver's license or ID card
renewing a driver's license with the Safe Driver Renewal program.
Paying with an e-check is simple. Customers visit www.cyberdriveillinois.com to begin the transaction. Then you'll be automatically connected to NCR where they provide their routing number and bank account number on the secure payment page. After the transaction is completed and the e-check is verified, the Secretary of State's office will begin the process of mailing the vehicle registration sticker or DL/ID card.