Rep. Reick and County Clerk Joe Tirio to Partner for Mail-In Voting Q&A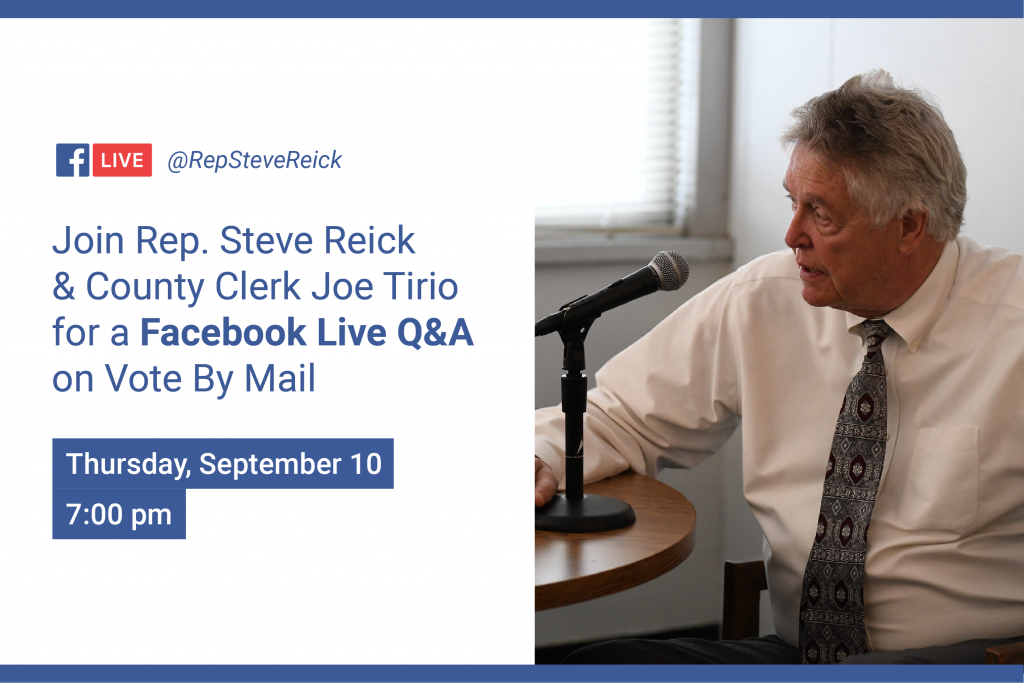 I've received many emails and phone calls from constituents who have questions about the vote by mail process. On Thursday, September 17 at 7:00 PM I will be partnering with McHenry County Clerk Joe Tirio for a Facebook Live event that will focus on issues related to mail-in voting for the fall election. The event will begin at 7:00 sharp, and Mr. Tirio will provide an overview of how his office is managing this new mandate, and then we will take questions.
You must "like" my State Representative Steve Reick Facebook page to be able to watch this informative session. Click here to be navigated to that page. We would like to collect as many questions as possible ahead of time, so if you have a question about the mail-in ballot process that is available to voters this fall, please submit questions to my office email: reick@ilhousegop.org.
In May, the General Assembly passed SB 1863, which provides for a massive expansion of Illinois' vote by mail system. Through this legislation, ballot applications were mailed to approximately 5 million voters who cast votes in elections in 2018, 2019, or 2020. Although it wasn't required by SB 1863, Mr. Tirio also mailed applications to those who voted in 2016, as well. If you voted in any of these years, you should have received an application at your house. The item received was an application, and not an actual ballot. If you wish to vote by mail, you need to fill out the application and mail it back to the County Clerk's office. Upon its receipt, a ballot will be mailed.
Petition Filed to Form Special Investigating Committee on Speaker Madigan
On August 31, 2020, three House Republicans filed a petition to form a Special Investigative Committee. The subject of the petition is Illinois House Speaker Michael J. Madigan and surrounds information from the Deferred Prosecution Agreement entered into by ComEd and the United States Attorney's Office. The petition was signed by House Republican Leader Jim Durkin, Rep. Andrew Chesney and Rep. Ryan Spain. Upon learning of the filing, I released this statement:
"The filers of this petition utilized House Rule 91 as the basis for their request. We have a few different tools at our disposal for addressing alleged misconduct by elected officials, and the provisions of Rule 91 outline a clear process for gathering testimony and issuing findings in cases where corruption is alleged or suspected.
"The facts as agreed to by ComEd paint a very disturbing picture of political malfeasance, yet members of the majority party are slow-walking ethics reform in this election year. The Joint Commission on Ethics and Lobbying Reform has not met since early March, and the two people who have the authority to call the House back into session- Governor Pritzker and Mike Madigan- seem unwilling to reconvene so we can take votes on substantive ethics reform.
"House Rule 91 is rarely used, but in this climate where suspected misconduct goes all the way to the top, the rule is in place as a last resort to force action. I believe we are at that point."
The House Republican members appointed to the Special Investigating Committee are Reps. Tom Demmer (Republican spokesperson), Deanne Mazzochi and Grant Wehrli. They will join Democratic State Reps. Chris Welch (chair), Elizabeth Hernandez, and Natalie Manley on the six-member bipartisan committee.
On July 17, 2020, the United States Attorney for the Northern District of Illinois released a Deferred Prosecution Agreement ("DPA") with Commonwealth Edison ("ComEd") in Case Number 1:20-cr-00368, where ComEd acknowledges and agrees that ComEd engaged in a bribery scheme with Public Official A and individuals closely associated with Public Official A from 2011-2019. In the DPA, Public Official A is referred to as the Speaker of the House of Representatives. Michael J. Madigan was the Speaker of the House from 2011-2019 and is still the Speaker today. ComEd admits to corruptly providing, offering and agreeing to give things of value, namely jobs, vendor subcontracts, and monetary payments associated with those jobs and subcontracts for the benefit of Madigan and his associates, with the intent to influence and reward Madigan. ComEd admits to bribing Madigan and his associates with jobs, contracts and payments in an effort to influence Madigan to assist ComEd with respect to legislation concerning ComEd and its businesses.
As part of the DPA, ComEd agreed to pay $200 million to resolve a federal criminal investigation into a years-long bribery scheme, which implicates Speaker Madigan. On the same day ComEd agreed to pay the fine, Madigan's office received a subpoena from a federal grand jury for documents concerning an ongoing investigation. Just last Friday, Federal prosecutors filed one count of conspiracy to commit bribery against Fidel Marquez, Commonwealth Edison's former chief lobbyist and senior vice president of governmental and external affairs from 2012 until last September. The type of court filing naming Marquez indicates that he's pleading guilty, which is an indication that the Federal probe into potential wrongdoing by the Speaker is gaining steam.
The U.S. Attorney's Office has been advised of the petition and the legislative process moving forward. It is the committee's intention not to interfere in any way with the federal investigation.
Happy Labor Day!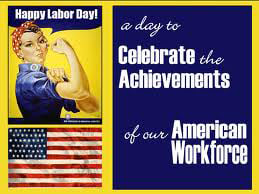 Lastly, I wish you all a very happy Labor Day! Yesterday and every Labor Day we pay tribute to American workers and their contributions and achievement. This September holiday has also become known as the unofficial end of summer. Whereas we typically enjoy parties, parades and other celebrations to mark Labor Day, this year we are limited in how we can gather due to COVID-19.
Labor Day was created in response to a dismal time for the American workforce. In the late 1800s and during the Industrial Revolution, it was not uncommon for people to work 12-hour days or more, seven days per week just to provide a living for their families. Work conditions were poor. Over time, conditions improved and workers gained a voice and were able to negotiate better wages and a safer work environment. So today we celebrate America's workforce, and we thank every American worker for his or her contributions to society.