Governor Pritzker's Tax, Borrow & Spend Budget More of the Same From Failed Democrat Playbook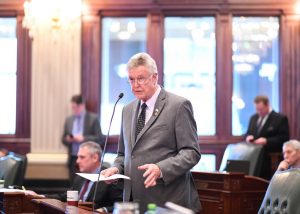 Governor JB Pritzker delivered his first Budget and State of the State Address to a joint session of the Illinois General Assembly in Springfield on Wednesday, February 20th. His introduced Fiscal Year 2020 budget proposal estimates general funds revenue at $38.9 billion and proposes $38.7 billion in general funds spending.
The Pritzker budget proposal relies on more than $1 billion in new taxes and revenue from legislative initiatives that have not been approved yet, and an income tax plan that is currently unconstitutional. If his wish list of policy changes does not take shape as he has planned, there will be a gaping $2.6 billion hole in his budget.Pritzker is counting on significant new revenue tied to the approval of recreational marijuana and sports betting. He's also calling for higher taxes on a wide variety of products and services, a sharp increase in the video gaming tax, and a 5-cent tax on plastic grocery bags. None of these items has been presented to any House or Senate committee, and none has been brought to either chamber for a vote.
I was also incredibly disappointed by the Governor's refusal to seek real reforms to our pension crisis. Rather than choosing a responsible path forward to address pension debt, he reverted the old standby budget gimmick of extending the pension ramp. By extending this massive debt by seven additional years, he is able to identify close to $900 million that can be spent on new programs in FY 2020. That money on the front end is far outweighed by additional interest that will end up costing taxpayers tens of billions or more in new debt. It is precisely this "kicking of the can down the road" that created Illinois' pension crisis in the first place.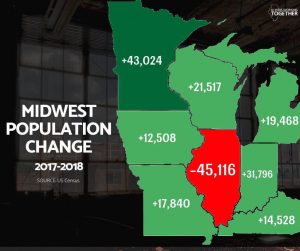 Governor Pritzker offered no solutions that would increase jobs or the economy, or stop the out-migration of Illinoisans to other states. I heard nothing in the budget address that would put Illinois onto a better path. We need a balanced budget, but it must not come at the expense of taxpayers who are already beyond the limit of what they can afford. Illinois is losing population at an alarming rate and I fear this budget will only speed the exodus from the state.
Click here
to watch an interview I did following the budget address.
Coffee & Conversation Tour Continues with March 2 Event in Richmond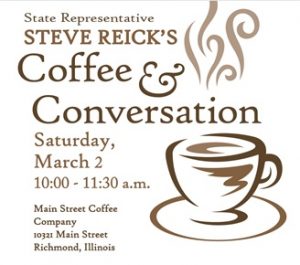 My Coffee & Conversation tour continues this weekend with a visit to Richmond's Main Street Coffee Company on the morning of Saturday, March 2.
A member of my staff and I will have a few tables reserved for guests between 10:00 AM and 11:30 AM, and those who attend can enjoy a free cup of coffee while talking about issues of importance.
These Coffee & Conversation events compliment an already-existing mobile office hours tour that brings district office resources to local libraries and municipal buildings throughout the 63rd District. By offering a variety of opportunities for public engagement, I am hoping to maximize the access residents have to their elected Representative in Springfield.
Rep. Reick Joins House Republicans in Opposing 82% Increase in Minimum Wage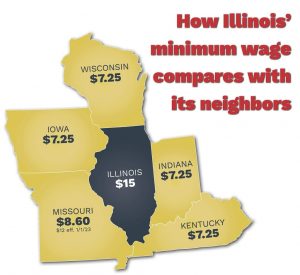 Earlier this month, as House Democrats pushed through an 82% increase in the Illinois minimum wage.
SB01
will incrementally increase Illinois' minimum wage to $15 an hour by 2025, driving labor costs to be the highest by far in the Midwest. When SB01 is fully enacted, Illinois will join New York and California with the highest minimum wage in the nation.
I spoke out against the measure when it was debated on the House floor.
Click here
to watch my bill debate.
Minimum Wage Hike: Bad for Business, Bad for Low-Wage Workers; Great for Neighboring States
Numerous studies have demonstrated that increasing the minimum wage leads to job losses for low-wage workers. After Illinois raised its minimum wage in 2010, unemployment among teenagers and part-time workers went up. No wage is enough if there isn't an opportunity for a job.
Business owners cannot simply absorb the higher cost of doing business. They are forced to cut their workforce or go out of business. Businesses also have a limited ability to raise prices to make up for the cost of a higher minimum wage. Two-thirds of Illinois' population lives within a 40-minute drive of the state border. With higher gas, liquor, tobacco and sales taxes, this will create yet another reason for these people to shop across the border.
The effective date of this bill would not have changed if Democrats would have slowed down, listened to valid concerns, and ensured that the best bill possible was sent to the Governor. But for reasons that were purely political and which had nothing at all to do with good public policy, this bill moved at rocket-speed to the Governor.
The House vote on the minimum wage bill was 69-47-1. The measure has already been signed into law.
District 63 Survey: Reject Minimum Wage Hike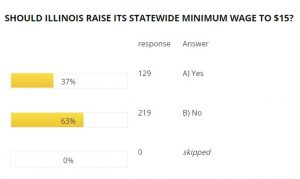 Prior to the minimum wage vote, I polled my E-Newsletter subscribers to learn their stance on the minimum wage proposal. Of the 348 individuals who participated, 219 said they were opposed to an increase in the minimum wage (63%), and 129 people said they favored it (37%).
I appreciate the input and will continue using the survey feature tied to my E Newsletter subscriber list to gauge opinions from my constituents on key issues.
Beware of Tax Season Identity Theft Scams!
The Illinois CPA Society has published tips on how people can avoid becoming a victim of identity fraud during tax season. Whether scam artists use your information to file tax returns with hopes of stealing your refund or pose as IRS agents who threaten legal action if payments are not made, there are steps that can be taken to protect yourself from these predators.
The Illinois CPA Society has outlined key points to help ensure you don't become a victim:
Tax ID Theft Warning Signs
Your electronically filed tax return is rejected because a return with your Social Security Number already has been filed
Receiving a letter from the IRS asking for confirmation on submission of a tax return being held for review
Being informed by the IRS that records of wages were received from an employer that you did not work for
Tax ID Theft Prevention Steps
File your tax return as early as possible
Arrange for your tax information forms to be delivered to you electronically during tax season (W-2s, 1099s, etc.)
Monitor your credit report for unusual activity
Avoid using public wi-fi Internet connections to send private information
Shred old financial documents
Make sure to encrypt any tax information sent via email with a password
Rep. Reick Offers Free Passes to Many Chicagoland Museums and Zoos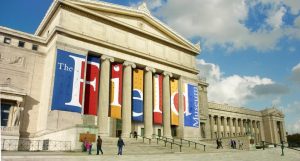 Chicagoland is home to some of the world's best museums and zoos. Through a 'Constituent Education Resource Card' that is available for free through my legislative office in Woodstock, constituents from the 63rd District can gain free entry for up to four people to several of these amazing venues.
Any resident of the 63rd District may reserve the Constituent Education Resource Card on a first come first served basis, to visit any of the following museums in 2019:
Adler Planetarium
The Art Institute of Chicago
Brookfield Zoo
Chicago Botanic Garden
Chicago Children's Museum
Chicago History Museum
DuSable Museum of African American History
The Field Museum
Lincoln Park Zoo
Museum of Contemporary Art
Museum of Science and Industry
National Museum of Mexican Art
National Museum of Puerto Rican Arts & Culture
Peggy Notebaert Nature Museum
John G. Shedd Aquarium
Because only one group pass is available at a time, reservations are required. To reserve the free pass, please contact my office at reick@ilhousegop.org or (815) 880-5340. A reservation can be made by providing a name and address, and the date(s) the card would like to be reserved. Upon reserving the pass, constituents may pick it up and return it to my legislative office at 1072 Lake Avenue in Woodstock.