J.B. Pritzker Sworn In as Illinois' 43rd Governor
Last week, J.B. Pritzker and the other Illinois constitutional officers were sworn into office at an inaugural ceremony held in Springfield. Pritzker, the billionaire businessman and Hyatt hotel heir, became the 43rd Governor of the State of Illinois, and Juliana Stratton, a former member of the Illinois House of Representatives, was sworn in as Lt. Governor. After being sworn in, Governor Pritzker spoke about the challenges facing Illinois and his progressive agenda for the state. A lavish inaugural ball was held Monday night at the Illinois State Fairgrounds, headlined by Super Bowl halftime act Maroon 5. I understand a good time was had by all, but I did not personally attend.
Durkin appoints Leadership Team for 101st General Assembly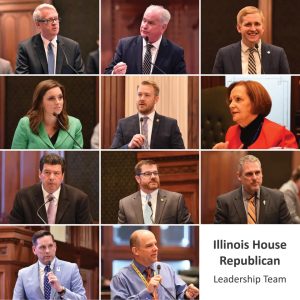 House Republican Leader Jim Durkin has announced the appointment of his
Leadership team
for the 101st General Assembly. Congratulations to this dynamic group of leaders:
Deputy Republican Leaders
Rep. Dan Brady
Rep. Tom Demmer
Assistant Republican Leaders
Rep. Avery Bourne
Rep. C.D. Davidsmeyer
Rep. Norine Hammond
Rep. Michael McAuliffe
Rep. Grant Wehrli
Rep. Keith Wheeler
Rep. Tim Butler will serve as Conference Chair
Rep. Mark Batinick will serve as Floor Leader
Rep. Reick Files Bill to Streamline Renewal Date Procedure for Concealed Carry Permits in Illinois
One of the first bills I filed in the new 101st General Assembly is a measure that would ensure that concealed carry permit holders are not being shortchanged on the length of time their cards are valid. HB 364 amends the Firearm Concealed Carry Act to align concealed carry renewals with the dates of expiration of previous cards rather than five years from the date the renewal application is processed.
This issue was brought to my attention by a few constituents who were essentially being penalized by submitting all required renewal documentation early within the 120-day timeframe recommended by the Illinois State Police. They were receiving new cards that expired five years from the date their new information was processed rather than five years from the date their former card was issued. Its an issue of fairness. These are individuals who are taking proactive steps to ensure they remain compliant with the Illinois concealed carry law, but they're also not interested in paying for periods of double-coverage. I am anticipating bipartisan support of this bill.
Unemployment Rises Slightly in December
The Illinois Department of Employment Security (IDES) numbers for December 2018 show a slight increase in the state's unemployment rate from 4.2% to 4.3%. The increase appears to have been primarily caused by persons entering or re-entering the Illinois labor force most likely for holiday seasonal work. Total nonfarm payroll increased during the same period by 13,600 jobs.
However, Illinois' unemployment numbers continue to be better than they were at the same time one year ago. Economists look to year-over-figures as a way of smoothing out random statistical noise and seeing long-term trends. The Illinois unemployment rate was 4.9% in December 2017 and was 4.3%, down 0.6%, one year later. The total nonfarm payroll increased during the same period from 6.08 million jobs to 6.15 million, up 71,000 positions. During the past twelve months, the gap between the Illinois jobless rate and the U.S. nationwide unemployment rate has shrunk from 0.8% to 0.4%, indicating that Illinois is partially catching up with the national economy.
Rep. Steve Reick Hosts Coffee & Conversation Event in McHenry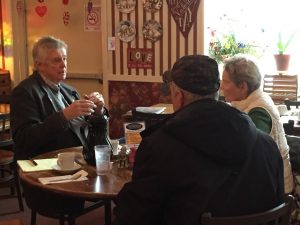 Thank you to the constituents who braved Saturday's snow to come out to my first Coffee & Conversation event held at the Windhill Pancake Parlor in McHenry. I had a table reserved for guests between 8:30 and 10:00 AM and engaged in some great conversations while enjoying a cup of coffee with those who attended. I must thank the owners of the Windhill Pancake Parlor for their hospitality and wonderful service. My next Coffee & Conversation event will take place in March at a date and location that will be announced soon.
Illinois Taxpayers Continue to be on Hook for More Than $7 Billion in Current Debts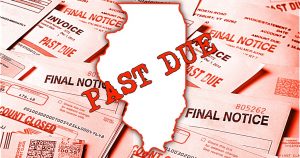 The mammoth number was published last week by the Office of the Illinois Comptroller, which is currently holding more than $6 billion in unpaid bills that have been presented to the State by legitimate creditors. In addition, the Comptroller's office tries to monitor how many bills are sitting in state agency offices and not yet transmitted to the Comptroller for eventual payment. More than $1.0 billion in such bills are reported.
Illinois's taxpayers are responsible not only for these bills, but for heavy interest payments. The Prompt Payment Act requires Illinois to pay interest on unpaid bills. The Office of the Comptroller reported this week that their estimate of the Illinois general funds bill backlog was
$7.467 billion
. This leaves out even larger quantities of off-the-books State debts, especially the unfunded liabilities borne by State-managed pension funds. These unfunded liabilities can be estimated at different amounts depending on projections of future interest rate returns on pension assets in these funds, but each liability estimate generates a figure well above $100 billion. Based on the ratio of debts to citizen incomes, Illinois' public-sector debt burden is one of the highest among the 50 states of the U.S.
Reick Provides Springfield Update at Marengo-Union Chamber Event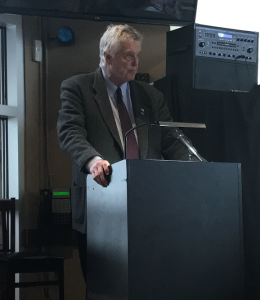 Last week it was my pleasure to speak to members of the Marengo-Union Chamber of Commerce about issues facing the State of Illinois. I provided an update on the challenges we face with regard to pension and other debt, and about the progressive agenda (read this as expensive) that is already being brought forward by our new Democrat Governor, J.B. Pritzker. I appreciated the opportunity to speak and enjoyed my conversations with local business leaders from the Marengo-Union area.
The Marengo-Union Chamber has served the business community of southwest McHenry County since 1970. It is a catalyst for business growth and development in the Marengo-Union area, providing advocacy and support services for its members.
Teen Birth Rates Decline in Illinois
A statistical analysis of birth certificates filed in Illinois, which include the name and identification information for each mother, indicates a continuing and relatively significant decline in the number of babies born to teenage mothers. In 2016, the most recent year for which these numbers have been compiled, the rate of teenage childbearing was 18.7 births per 1,000 teenage girls and young women aged 15 to 19. This reflected a decline of 9.1% per year from the same numbers calculated two years earlier in 2014.
Much of the decline was attributed to falling teenage birth rates in the city of Chicago. The Chicago teen birth rate, although it remains significantly higher than the rate for the state as a whole, is falling much faster. The statistics are calculated, both for Illinois counties and on a statewide basis, by the Illinois Department of Public Health, which has access to the birth certificates filed in each county of the state.
Illinois Winter Road Conditions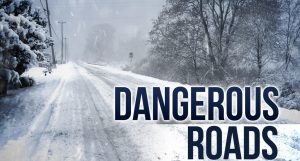 The Illinois Department of Transportation portal page "
Getting Around Illinois
" contains links to webpages that describe Illinois winter road conditions, current travel information, and road construction notices and updates. As of mid-January 2019, wide sections of Illinois have already seen snowfalls of more than twelve inches. We had our share of heavy snow over the weekend and icy conditions have followed this week. Be careful out there, and check the Getting Around Illinois portal to check road conditions before you venture out.
Veterans' Hiring Preference to be Expanded under New Law
For decades, Illinois and the nation have worked to support those who served in our nation's armed forces. As part of this effort, Illinois enacted the Veterans Preference Act, a state law designed to put in place a hiring preference for veterans applying for state jobs. However, the law contained a loophole which left some veterans out in the cold.
HB4288
corrected that existing law by making all Illinois residents who are National Guard veterans eligible for the hiring preference, regardless of which state they may have served. I was proud to support this bill, which took effect on January 1 of this year. Information and tips for veterans from the Illinois Department of Veterans Affairs on the state employment process can be found
here
.