House Adjourns 2018 Spring Session
Following more than four months of committee and floor action, the Illinois House adjourned on Thursday, May 31, after passing a $38.5 billion budget for Fiscal Year 2019. At the sound of the adjournment gavel, members of the General Assembly passed a total of 421 bills for the year. Of these, 332 originated in the House and 89 originated in the Senate. Governor Rauner has already begun taking final action on these bills.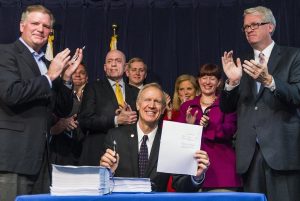 On Monday, June 4, Governor Bruce Rauner signed the Fiscal Year 2019 budget bills into law. Without this bipartisan agreement, Illinois would have been saddled with an "auto-pilot" budget that would have increased spending by $1.2 billion. The budget includes no new taxes or fees, and marks the first time in several years that lawmakers have come together and approved a balanced budget prior to the scheduled May 31 adjournment date of the General Assembly. Here are a few highlights from the new budget that will take effect on July 1:
Investment in K-12 Schools and Colleges/Universities
Additional $350 million investment into K-12 education;
$50 million in support of early childhood education;
2% increase in funding for higher education institutions—to reduce pressure to raise tuition;
A new, merit-based scholarship program, "AIM High," funded by $25 million from the state and $25 million from universities to help keep students in-state;
$4.3 million for veteran grant reimbursements to apply to all Illinois community colleges, and continues to fund the MAP Grant Program for students with financial need.
Pension Reform
Caps end-of-career salary increases to prevent pension spiking;
Funds a voluntary pension cost of living adjustment (COLA) buyout, modeled after Missouri's successful plan (Estimated savings of buyout: approx. $455 million);
Makes a full pension payment (rather than skipping it or making a partial payment).
Capital and Roadways
$2.5 billion into the Department of Transportation's road program to make much-needed repairs to roads across the state;
Provides funding for State Police to hire 100 new police cadets to keep roadways and communities safer;
$53 million for Quincy Veterans' Home (largest veterans' home in Illinois) to fund its renovation and eliminate the presence of Legionnaires' disease.
While the budget is not perfect, and we have much work still to do with regard to reforms to stimulate Illinois' economy and provide real property tax relief, it provides a foundation to build upon in the future, and is a product of true partisan compromise at the Capitol.
The House and Senate will return to Springfield on Tuesday, November 13 for Veto Session, which is the six-day period set aside for consideration of the Governor's vetoes of bills passed by both houses. In addition, committees and task forces will continue working throughout the summer and fall.
I will be spending a great deal of time in my district office so I can meet with constituents about issues of concern. If you would like to come in and talk, please call my office at (815) 880-5340 to make an appointment.
Free Senior Fair Set for June 28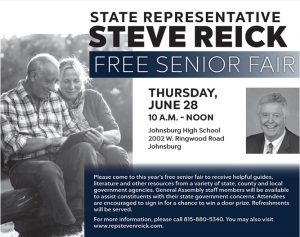 Plans are coming together for my Second Annual Senior Resource Fair, which will be held on Thursday, June 28 from 10:00 AM until noon at Johnsburg High School, 2002 W. Ringwood Road in Johnsburg.
Those who attend can visit more than 20 booths staffed by agencies that assist seniors, and register for a chance to win a door prize. Helpful guides, literature and other resources from state, county and local government agencies will also be available. Free blood pressure screenings will also be available at the event. No pre-registration is necessary.
Rep. Reick Seeks Community Input through Legislative Survey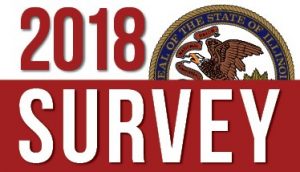 If you live in McHenry County, I'd appreciate your input on a 2018 legislative survey I recently posted to my web site (
www.repstevenreick.com
). The results will be a valuable tool as I represent the issues and priorities of the 63rd District and all of McHenry County in Springfield. Difficult votes are coming, and I want to be sure I have a solid understanding of my constituents' expectations. The survey includes several multiple choice questions, and participants will also be offered an opportunity to subscribe to an E-newsletter that includes regular updates on legislation and other issues affecting McHenry County and the State of Illinois. I will read every survey that is completed, and I look forward to seeing the results. If, after completing the survey, you would like to add additional comments, please send me an email at
reick@ilhousegop.org
.
"ON TO 2050" Draft Plan Comment Period Open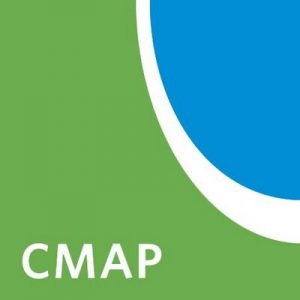 The Chicago Metropolitan Agency for Planning (CMAP) is nearing completion of the "ON TO 2050" comprehensive regional plan. A draft version is available for public viewing until August 14. CMAP is holding a series of ten open houses and one public hearing, so people can discuss the proposal with CMAP staff. CMAP will also present for comment the draft 2019-2024 Transportation Improvement Program and air quality conformity analysis of proposed transportation projects. The draft plan is posted at
this link
, which will also include an area where the public can submit written comments. All open houses will take place from 4:00 PM until 7:00 PM. While only one open house is scheduled for McHenry County, two others are nearby in Kane and Lake Counties:
Tuesday, June 19, McHenry County Administration Building, 667 Ware Road in Woodstock
Wednesday, June 27, Kane County Government Center, 719 South Batavia Avenue in Geneva
Thursday, July 12, Libertyville Village Hall, 118 West Cook Avenue in Libertyville
The public hearing is scheduled for Wednesday, July 25, from 3:00 PM until 6:00 PM at the MAP headquarters in Chicago, located at 233 South Wacker Drive, 8th Floor.
$69.5 Million in IDOT Funds Coming to 63rd District Between 2019-2024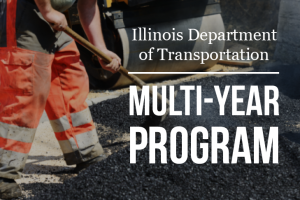 I'm pleased to announce that close to $69.5 million of an $11.05 billion statewide road and bridge improvement program will be spent on projects in the 63rd District between 2019-2024. The projects are part of the Illinois Department of Transportation's (IDOT) six-year Proposed Highway Improvement Program, which is funded annually through IDOT's budget.
District 63 projects included in IDOTs six-year program include:
$890,000 for resurfacing, ADA improvements and a railroad flagger on US 12 from IL 173 to Tryon Grove Road in Richmond
$2,600,000 for resurfacing on US 12 from IL 31/Tryon Grove Road to the Lake County Line in Richmond and Spring Grove
$529,000 for milled rumble stripping on US 12 from Wilmot Road to Fox Lake Road and Kuhn Road to North Solon Road, and on IL 173 from west of Lake Avenue to 7th Avenue in Richmond
$2,000,000 for bridge deck overlay, joint repair and bridge repair on US 14, IL 173 and on Division Street at the railroad crossing at McComb Street in Harvard
$2,995,000 for resurfacing on US 14 from Bunker Hill Road to IL 47
$1,110,000 for resurfacing on US 14 from IL 47 (Eastwood Drive) to Lake Shore Drive in Woodstock
$5,060,000 for resurfacing and ADA improvements on US 20 from the Boone County line to I-90 in Marengo and Hampshire
$1,300,000 for channelization on US 20 at West Union Road and at Coral Road in Marengo
$1,426,000 for culvert replacement on US 20 at the creek west of Beck Road in Marengo
$3,240,000 for intersection reconstruction on US 20 at Marengo-Beck Road and Union Road in Marengo
$2,350,000 for intersection reconstruction on US 20 at Harmony Road in Coral Township
$600,000 for land acquisition and culvert replacement on IL 23 near the drainage ditch at IL 176 in Marengo
$2,040,000 for resurfacing on IL 31 from US 12 to south of Johnsburg Road in Ringwood
$650,000 for resurfacing on IL 31 from Diamond Drive to McCullum Lake Road in Ringwood and McHenry
$5,800,000 for engineering for safety improvements on IL 31 south of IL 120 to north of IL 176 and near the drainage ditch four miles south of US 12 in McHenry, Prairie Grove, Crystal Lake and Ringwood
$770,000 for culvert replacement on IL 31 at the drainage ditch six miles north of IL 176 in McHenry
$695,000 for resurfacing and ADA improvements on IL 47 from State Line Road to IL 173 in Hebron
$1,050,000 for land acquisition and culvert replacement on IL 47 at the drainage ditch west of Wilke Road in Hebron
$1,075,000 for engineering for improvements on IL 47 from Charles Road to north of IL 120 in Woodstock
$1,025,000 for engineering for improvements on IL 47 from north of IL 120 to US 14 in Woodstock
$2,850,000 for resurfacing, ADA improvements and a railroad flagger on IL 47 between IL 120 and IL 176 in Woodstock
$2,430,000 for engineering for improvements on IL 47/IL 176 from US 14 to south of IL 176 in Woodstock
$3,536,000 for engineering for improvements on IL 47/IL 176 from south of IL 176 to Reed Road in Lakewood and Huntley
$230,000 for culvert replacement on IL 120 at the ditch 1.2 miles east of US 14 in Woodstock
$7,400,000 for resurfacing and a railroad flagger on IL 120 from Charles Road to west of 3rd Street and from the Fox River to the Lake County line in McHenry and Lakemoor
$5,840,000 for resurfacing ADA improvements and a railroad flagger on IL 173 from Alden Road to the Lake County line in Hebron and Richmond
$385,000 for land acquisition and culvert repair on IL 173 at the north branch of the Nippersink east of Hunt Club Road in Richmond
$1,600,000 for land acquisition and channelization on IL 173 at Solon Road at Lakeview Road in Richmond
$7,600,000 for land acquisition and left turn lanes, a milled rumble strip, a guardrail and pavement widening on IL 176 from Deerpass Road to Dean Street in Marengo and Woodstock
$400,000 for culvert replacement on IL 176 at the ditch 1.1 miles west of IL 47 and the drainage ditch 8.6 miles east of IL 23 in Woodstock and Marengo
Based on current funding levels, the FY 2019-2024 Proposed Highway Improvement Program aims to improve a total of 1,945 miles of road and 525 bridges maintained by the State. The multi-year program also includes funding for upgrades to more than 750 miles of local roads and 922,933 square feet of local bridges.
Reick to Partner with Woodstock Food Pantry and City of Woodstock for Free Shred Event and Food Collection Drive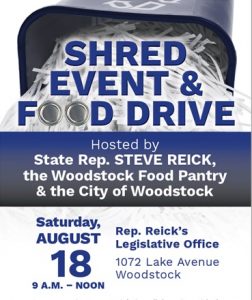 Please mark your calendar for Saturday, August 18, when I will host a free document shredding event in the rear lot of my legislative office at 1072 Lake Avenue in Woodstock. From 9:00 AM until noon, residents can drop off up to two garbage-sized bags or two banker-sized boxes of documents to be fed into a large shred truck that will be on site. Just follow the sign that directs cars through the lot, and my volunteers will take your documents for shredding.
We'll also be collecting non-perishable items for the Woodstock Food Pantry, so please plan to stop by. We'll shred your documents and collect a few items for the food pantry. Visit my website at
http://www.repstevenreick.com
often for additional information about these and other upcoming events.
Rep. Reick Demands Public Hearings in Light of Tribune Investigative Report Detailing Ongoing Sexual Violence against CPS Students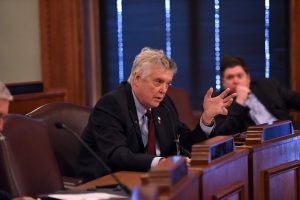 I was deeply troubled by a recent Chicago Tribune investigative report that outlined hundreds of cases of sexual violence and abuse against students in the Chicago Public Schools (CPS) system. As a member of the House of Representatives' K-12 Curriculum and Policies Committee, after reading the initial article, I immediately contacted the chair of the committee and demanded public hearings into this sickening abuse of power over children. It's a betrayal of the highest level, and the members of the General Assembly deserve some answers.
The June 3 article unveiled sexual abuse in CPS through an examination of crime data between 2008 and 2017. The investigative report outlined how ineffective background checks, sloppy oversight and blatant efforts to hide instances of sexual abuse led to ongoing acts of sexual violence against students. According to the Tribune, police investigated 523 reports of children claiming to be sexually assaulted or abused inside CPS buildings between 2008-2017.
It is clear that CPS has done very little to address these crimes against children. It seems there are adult predators in positions of authority in CPS schools and in some cases teachers and principals failed to alert child welfare investigators the moment a situation was reported. The negligence shown by CPS cannot be allowed to continue. Since it is clear that CPS did not take adequate steps to change this sickening culture in the schools, the General Assembly will. The Tribune reported only on the instances of abuse they uncovered through police reports. I have to wonder how many students also suffered, or continue to suffer, abuse within the walls of CPS but have not come forward. Sweeping changes need to occur in order to change this culture where predators are allowed access to students during the school day, and public hearings before the General Assembly's Education Committee are a good start.
$16 Million in Agriculture Grants Released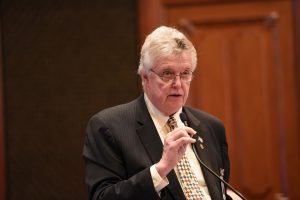 In March of this year, I petitioned Governor Bruce Rauner to release current budget year funds earmarked for agriculture support in Illinois. The money was included in the budget, but never delivered. I'm pleased to announce that that the $16 million in agriculture grants included in this year's budget have finally been released. This money will fund soil and water districts, county fairs and agriculture societies, and the University of Illinois Extension services.
Soil and Water Conservation Districts, which protects our state's farmland through strategic conservation efforts, will receive $6 million. The 97 districts around the state play a central role in efforts to protect and sustain the viability of Illinois soil and water resources in order to preserve our farmland for future generations. The Department will be issuing more than $61,000 to each of the districts to help fund operations.
More than $54,000 will be sent to each of the 92 county fairs across the state. It will help operations at the fairs and may be used to support critical facility rehabilitation needs. Illinois county fairs are economic drivers for rural Illinois. A study from the University of Illinois shows county fairs generate more than $90 million annually and create more than 1,000 jobs each summer. In addition to providing family friendly entertainment, county fairs provide an outlet for our state's youth to become involved and engaged in Illinois agriculture.
More than 1.5 million Illinois residents take part in programs offered by the University of Illinois Extension Service. Extension provides educational assistance in the areas of energy and environmental stewardship, food safety and security, economic development and workforce preparedness, family health, financial security and wellness, and youth development. The Department of Agriculture will disperse $5 million dollars to assist the organization with its core mission.