Lawmakers Move Bills Through Committees
Legislators finished a busy week in Springfield on Thursday, as dozens of House Bills moved through the committee process and several pieces of legislation made their way to the floor of the House for full debates and votes. As is typical this time of the year, we spent a great deal of time in committees so members' bills could be heard prior to the April 13 committee action deadline. Lawmakers are now back in their home districts for four weeks to tend to local constituent needs. We return to Springfield on Monday, April 9.
Reick Chosen to Serve on House Higher Education Committee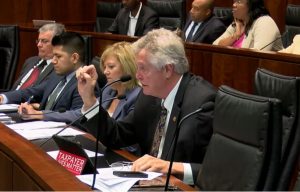 I'm pleased to announce that effective immediately, I'll be serving on the Illinois House of Representatives' Higher Education Committee. I'll join eight other Republicans and 12 Democrats on the committee, which is charged with considering policy initiatives that would affect the quality and cost of higher education at Illinois' 12 public institutions of higher learning. This committee meets regularly in Springfield during the regular session months between January and the end of May each year. Since education is one of my key areas of interest, this is an excellent committee assignment. I already serve on two of the K-12 Education committees and I'm pleased to now extend my service to the higher education committee discussions.
Reick Joins Bipartisan Lawmakers in Urging Governor Rauner to Release County Fair Funding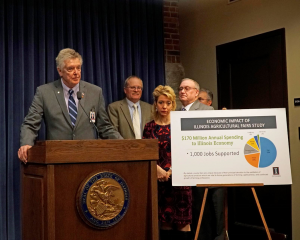 In McHenry County, students who participate in FFA and 4-H programs look forward to the county fair and the livestock auction at the fair every summer. These auctions offer our youth the opportunity to sell their agriculture products, and many use the money they make from their animals to help pay for college. On Thursday, I joined several Illinois legislators and county fair officials at the Illinois Capitol to showcase the positive economic benefit county fairs bring to the state and urge the Governor to release $1.4 million in funding that was appropriated as part of the current fiscal year budget.
During the press conference, the Illinois Association of Agricultural Fairs (IAAF) highlighted the results of a University of Illinois Extension Department of Community and Economic Development
study
, which revealed that county fairs bring $170 million annually to the state's economy and support 1,000 non-fair related jobs. In addition to the economic benefit of county fairs, the agricultural component of county fairs is part and parcel of a comprehensive agriculture education in Illinois. With agriculture being our state's largest industry, it is necessary for us to continue bringing people into the industry, and its incumbent upon us to provide these students with a proper agriculture education.
Commission on Government Forecasting and Accountability (COGFA) Releases Reveneue Estimate for Fiscal Year 2019
COGFA, the nonpartisan accounting and State budget-forecasting arm of the Illinois General Assembly, has published its initial estimate of Illinois general revenues for Fiscal Year (FY) 2019. For the fiscal year that will start on July 1, 2018, the current forecast is for receipts to continue to increase over FY 2018 levels, albeit at a slower pace than the increase enjoyed in FY 2017. General funds revenues are expected to increase by approximately 3.0% in FY19 over FY18, exclusive of transfer lines. This equates to an increase of $1,029 million in FY19 general funds revenues, from an expected $34,804 million in FY18 to $35,833 million in FY19. While this is a healthy increase, it is once again not sufficient for the State of Illinois to pay its mandated share of the ever-rising cost of medical care for Medicaid line items, cover actuarially required pension cost increases, and pay back old bills in FY19.
My hope is that the legislators in the House of Representatives utilize this data and approve an agreed revenue estimate that will guide budget discussions. The Constitutions requires a balanced budget, and we must agree on projected revenues before we begin allocating monies to be spent.
House Takes Action in Wake of Mass Shooting at Florida School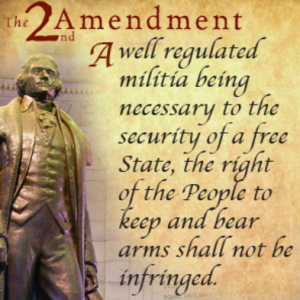 The Second Amendment is a core element of our Constitution's Bill of Rights. The application of the Second Amendment to protect people's ability to own and keep a firearm has been affirmed by the U.S. Supreme Court and our Illinois Supreme Court, and I support every American's Second Amendment rights, as well as all of the other freedoms that we enjoy. Any measure to limit our Constitutional freedoms inflicts a collective punishment upon law-abiding citizens without providing the due process protections that are the foundation of living in a free society.
Six different gun control bills were brought to the floor of the House for a vote recently. Of these bills, one dealt with an issue that would be better dealt with at the Federal level, one was a clear attempt to burden small businesses, and the others went beyond the issue of ensuring public safety and stepped into the realm of infringing upon core Constitutional rights. Thus, I could not support any of the bills. None of the bills examined the mental health issues that appear to be so big a part of these recent killings, but I'm currently working with one of my House colleagues on legislation that would allow for lethal violence orders of protections against gun owners who have displayed clear signs of mental illness and intent to harm others. As future gun legislation reaches the floor of the House, I will examine each bill through the lens of preserving our due process protections as well as our Second Amendment rights.
Illinois House Passes Bills Intended to Assess Hospitals for Federal Healthcare Funding
Under current federal law, part of Illinois' federal funding for health care is raised through an assessment process. Funds are collected from Illinois hospitals and used as seed money to request matching funds from Washington, D.C. SB 1573 and SB 1773 allow this assessment program to continue with cash flows reflecting ongoing changes in health care and the health care professions. At the end of February, the House passed SB 1573 by a vote of 110-0-1 and passed SB 1773 by a vote of 107-0-0.
Passage of these two bills was necessary because the current 2008 hospital assessment program will sunset on June 30, 2018. Enactment of this legislation will bring $3.5 billion in federal money into our State to support its healthcare infrastructure. Through a six-month-long cycle of meetings chaired on a bipartisan basis by members of the Illinois General Assembly, Illinois hospitals agreed to the specifications of the new assessment system. One key element of the new assessment system is a program of enhanced funding for challenged Illinois hospitals, including rural and inner-city safety-net hospitals. Of the money generated by these measures, 58% is expected to go to safety-net hospitals.
Illinois Praised as Good Location for Future Job Creation
The rating was bestowed by "Site Selection" Magazine, a CEO-oriented periodical and database that compiles information on the relative activities of U.S. locations for business relocation and job growth. Illinois ranked third in the number of new and expanded facilities per capital tracked by the periodical database, in a ranking called the "Governor's Cup" by the magazine.
Commentators said Illinois was honored for its transportation infrastructure and relatively affordable real estate. More than 400 new and expanded facilities were tracked moving to or expanding in greater Chicago, exclusive of Lake County, in the 2017 Governor's Cup rankings. This benchmark, which made greater Chicago the #1 U.S. metropolitan area tracked by "Site Selection" with a population of 1 million or more, powered Illinois' overall standings. However, Illinois' strength was not limited to greater Chicago. Three Illinois areas defined by the U.S. Census Bureau as "micropolitan areas," population centers in predominantly rural environments with a population between 10,000 and 50,000, also scored highly. Strong Illinois micropolitan areas were Ottawa-Peru, Effingham, and Rochelle. All three regions are places where transcontinental railroad service comes together with two or more U.S. Interstate highways.
Mark Your Calendar for Upcoming Summer & Fall Events in the 63rd District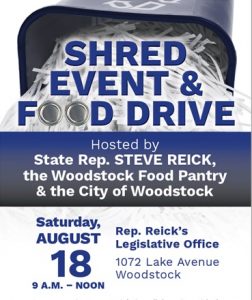 My staff and I are busy planning a comprehensive list of free community events that will be held throughout the summer and fall months in the 63rd District. Mark your calendars now for the following free outreach events that will be sponsored by my office in the coming months:
Wednesday, June 5: Understand Your Property Tax Bill: 6:30 PM until 8:30 PM, McHenry County Administration Building, 667 Ware Road, Upstairs Conference Rooms A & B, Woodstock
Thursday, June 28: Senior Fair: 10:00 AM until 12:00 Noon, Johnsburg High School, 2002 W. Ringwood Road, Johnsburg
Saturday, August 18: Joint Document Shredding/Canned Food Drive (for Woodstock Food Pantry): 9:00 AM until 12:00 Noon, 1072 Lake Avenue (Rear lot of the Reick Office), Woodstock
TBA: Women's Self Awareness/Self Defense Class 
Bicentennial Medallion Art Contest Underway in Illinois

The Illinois State Treasurer's Office is offering Illinoisans an opportunity to submit artwork for consideration to be emblazoned on a special 2018 Illinois Bicentennial medallion. The contest timeline to submit a design is now through May 1, 2018. All designs must be submitted via the official online form located
here
. Submissions will be judged initially by the treasurer's office based on content uniqueness, creativity, quality, accuracy, and completion. Contestants must be Illinois residents and may only submit one design. The top five designs will be made available for the public to vote on between June 1, 2018 and June 15, 2018 on the treasurer's office website. A final winner will be announced on June 18, 2018. The contest winner will be announced via press release and on social media, and the contest winner will be notified prior to the official announcement. Please read all contest
terms and conditions
. Questions should be directed to Maria Oldani via e-mail (
moldani@illinoistreasurer.gov
) or phone (217-782-9598).

Illinois Commemorative Stamp Released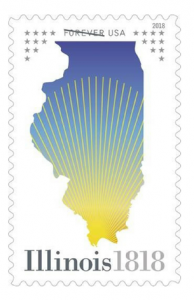 The U.S. commemorative
postage stamp
had its "First Day of Issue" on Monday, March 5. Sold for 50 cents, the stamp shares the white, yellow, blue, and green colors of the Illinois state flag and the words "Illinois 1818." It features an outline map of Illinois with the sun rising from the State's southern tip. Twenty stars in the stamp's corners reflect the U.S. states that entered the union before 1818, with the rising sun of Illinois being the twenty-first star of the National Union.
Emergency Rooms Log 66% Increase in Illinois Opioid-Related ER Visits in Recent Period
The figures, compiled by the federal Centers for Disease Control and Prevention (CDC), used July 2016 as a base and September 2017 as an endpoint. The numbers, based on surveys of emergency room (ER) personnel nationwide, were compiled nationwide and broken out by state. During this 14-month period, more than 142,000 patients came or were brought to ERs nationwide for emergency treatment of opiate overdoses.
Overdose drugs include heroin, fentanyl, OxyContin, and other dangerous medications that utilize the painkilling powers of opium. Patients who take opiates are in serious danger of overdosing because of the known tendency of the human neurological system to build up resistance, called "tolerance," to opiate pain relievers. As time goes by the patient must take more and more opiates to achieve the same outcome. The Illinois General Assembly has taken many steps in recent years to make it more difficult to buy opiate painkillers through prescription pharmacies; however, some patients are responding to these policy changes by increasing their demands for opiates through the illegal drug market. The Controlled Substances Act is the State statute that tries to help law enforcement stamp out illegal opium-based drugs in Illinois.
Recent data shows that nearly 1,950 Illinois residents died from opioid overdoses in Illinois during the period studied by the CDC. Other U.S. states are also seeing sharp increases in opioid incidents and opioid-related deaths.