State Rep. Steve Reick (R-Woodstock) visited Woodstock High School Tuesday, Dec. 12 to get a firsthand look at how high school students are using STEM in the classroom and what it means for their future.
Reick recently visited Prairiewood Elementary School for their Hour of Code event and said he wanted to see how these technology lessons translated for students once they entered later grades. "I'm really interested in developing technical training because there's a crying need for it," Reick said. "These are the things that are going to drive innovation."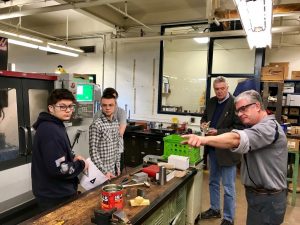 Reick visited the metals manufacturing lab, an automotive lab and an engineering classroom and spoke with students and teachers including Jason Huber, Jeff Griffith and Steven Thompson, chair of the career and technical training department at Woodstock High School. Huber explained that the goal behind the course offering is to give students some real world training to prepare them for current and future STEM related jobs. "That's the call of McHenry County – for more manufacturing jobs, so we're trying to build that pipeline," Huber said.
Some students already have internships with Scot Forge and other area manufacturing companies and some classes translate into college credits.
Reick said he's seen educational technology demonstrations in Springfield but said the personal visit to Woodstock High School had a big impact on him. "Education is more than just teaching them to read and getting them into college," Reick said. "I couldn't be more impressed."