Fall Veto Session Concludes with Action Taken on Several Vetoed House and Senate Bills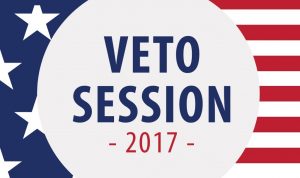 Lawmakers were in Springfield last week for the final days of the 2017 fall veto session. Of the bills that received a partial or full veto by the Governor during the spring legislative session, more than a dozen were successfully overridden and are now Illinois law. I am pleased to report that attempts to override a vetoed bill that prohibited "right to work" zones in Illinois failed. The bill required 71 votes for an override, and on two separate attempts the bill sponsor came up short.
Legislators will spend the next few months in their home districts tending to the needs of local constituents. Members of the House of Representatives report back to Springfield on January 23, and Senators will return on January 30 for the 2018 regular session.
General Assembly Sends Comprehensive Sexual Harassment Prevention Legislation to Governor
Members of the House and Senate approved a comprehensive piece of legislation last week that seeks to address the culture of sexual harassment in Springfield. SB 402 includes a mandate for annual sexual harassment training sessions for State Constitutional offices, state employees, lawmakers and lobbyists. The bill also includes a provision brought forward by House Republican Leader Jim Durkin, which would create a telephone hotline for persons seeking relief in cases of sexual harassment. Examples of help that the hotline could provide could include assistance in filing a sexual harassment complaint, referral of a victim to counseling, or referral of a victim to protective services. House members received their training on November 8 and Senators received their training on November 9.
SB 402 was part of a package of sexual harassment reforms passed in the wake of allegations of misconduct at the Capitol. Other bills that seek to change the culture in Springfield include HJR 83, a resolution that condemns the culture of sexual harassment and calls on all lawmakers to work together to change the culture, and HR 687, which creates a task force on sexual discrimination and harassment.
Legislative Inspector General Appointed
The Legislative Ethics Commission, a bipartisan working group within the Illinois General Assembly, has appointed Julie Porter as a special legislative inspector general. A former federal prosecutor in Chicago, Porter will play a key role in the General Assembly's internal disciplinary process for members and staff. The appointment came in the wake of a nationwide inquiry into sexual harassment in American workplaces.
Reports of sexual harassment can be made on a confidential basis to the Legislative Ethics Commission. With approval of the Commission, the special legislative inspector general (LIG) will examine the reports. If a complaint appears to be valid, the LIG may conduct further inquiries, and may initiate a remediation process. In some situations, the remediation process may require a referral of a specific report and case to law enforcement.
Rep. Reick to Host Mobile Office Hours in Richmond on Tuesday, November 14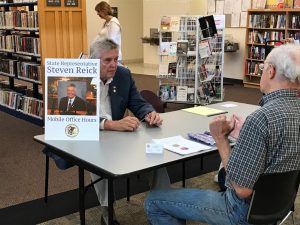 My fall mobile offices tour will continue next week with an event scheduled on Tuesday, November 14 at the Nippersink District Library in Richmond from 10:00 AM until 12:00 noon. The event is part of a series of mobile office hours events meant to provide residents of the 63rd Legislative House District with easy access to their elected Springfield representative. The 63rd District includes all or portions of 14 different municipalities, so once or twice each month my legislative assistant and I travel to another District 63 community so the people I represent in Springfield can come and share their concerns and ideas at a location that is convenient for them. No appointment is needed. Future mobile office hours dates and locations will be posted on my web site at
www.repstevenreick.com
.
District 63 Residents Invited to Provide Testimony on Opioid Crisis at Local Hearing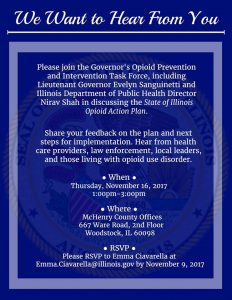 The opioid crisis is a significant problem that is destroying too many families in Illinois. Residents of the 63rd District are invited to join members of the State's Opioid Prevention and Intervention Task Force, including Lieutenant Governor Evelyn Sanguinetti and Illinois Department of Public Health Director Nirav Shah, for a public hearing that will be held Thursday, November 16 at the McHenry County Offices in Woodstock. The State of Illinois Opioid Action Plan will be shared, and citizens will be offered an opportunity to share feedback on the plan and discuss next steps for addressing this crisis. The hearing will take place from 1:00 – 3:00 PM at the County offices, located at 667 Ware Road. The meeting will be held in the upstairs conference room. If you would like to attend this event, RSVPs are appreciated, but not required. To RSVP please contact Emma Ciavarella at Emma.Ciavarella@illinois.gov.
Bond Sale Allows State to Pay Off More Than $3 Billion in Past-Due Bills
The money was transferred to the Office of the Illinois Comptroller, which was authorized to sign checks to make the payments. The payment cycle reduced the estimated quantity of
past-due bills
owed by the State from more than $16.5 billion to less than $13.3 billion. Even after this payment cycle, Illinois continues to carry a significant backlog of past-due bills, and has the lowest credit rating of the 50 states. Moody's and Standard & Poor's have assigned the lowest rank available which still allows investment-grade bonds to be sold in the debt markets.
Reick Calls Out House Democrats on Tax Freeze Gimmick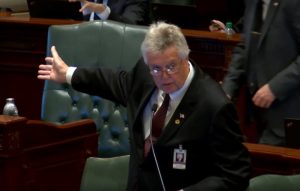 Last Wednesday, House Democrats floated a fake tax freeze bill that most members from both parties felt they had to support. The bill, an amended version of SB 851, would have frozen local government tax levies for two years. Prior to the vote, I spoke up and pointed to the fact that the legislation was nothing more than a gimmick, when what Illinoisans really need is permanent property tax relief achieved through reforms. As I suspected, after clearing the House, the bill moved to the Senate for their concurrence of the amendment, but the bill was not called for a vote.
Click here
to watch my floor comments on this latest example of political gamesmanship at the Capitol.
Governor Rauner Declares Harvest Emergency
Illinois is home to 72,000 farms on 26.7 million acres, and the state is among the top three corn producers in the nation. Last week Governor Bruce Rauner declared a statewide
harvest emergency
to assist farmers and grain handlers who are grappling with the fallout of rain-related delays. Under a new law signed Aug. 11, the declaration permits drivers of trucks carrying agricultural commodities over state highways to obtain a free permit to exceed gross vehicle weight limits by 10 percent. Further, local authorities may waive the permit requirement at their discretion. The emergency declaration is in effect for 45 days beginning Nov. 5. The Illinois Department of Transportation already is mobilizing the permitting process and notifying law enforcement agencies throughout the state. More information is available at
https://truckpermits.dot.illinois.gov/
.
According to data from the U.S. Department of Agriculture, the Illinois corn harvest at the end of October was 17 percent behind the prior year and 11 percent behind the five-year average. The corn harvests in the Northwest, Northeast and East regions are especially hard hit. Farmers made up ground toward the end of October, but early delays still are causing backups in the transportation chain.
Reick Fights to Protect Voter Intent in McHenry County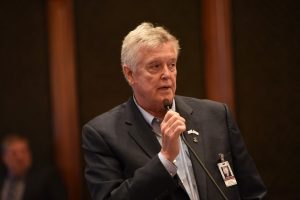 As most McHenry County residents will recall, a few years ago voters soundly rejected an effort to change the operational structure of the McHenry County Board to a "County Executive" form of government. Shortly after the failure of that referendum, the county board placed a question before voters about whether or not the county board chairman should be popularly elected by county voters rather than by the 24 sitting county board members. Whereas the County Executive form of government would have granted a great deal of power to the individual elected to the post, voters voted in favor of a popularly-elected county board chairman with limited authority and power.
Last week in Springfield, lawmakers considered
HB 171
, a measure that would increase the power of the County Board Chairman in a few select Illinois counties, including McHenry County. This would directly circumvent the expressed will of the people who resoundingly said "no" to a board leader with a great deal of individual power. During the bill debate on HB 171, I spoke out vehemently against bill.
Click here
to watch my full floor debate on the bill. In spite of strong opposition by most McHenry County lawmakers in the House, the measure was approved in a 63-48-1 vote.
Hotline and Network of Legal Services Launched to Assist Veterans and Service Members
Judicial, government and civic leaders have announced the launch of the Illinois Armed Forces Legal Aid Network (IL-AFLAN), the first-ever statewide hotline and network of legal support services for veterans, active-duty military, National Guard, reservists and their dependents. Through the IL-AFLAN, veterans and military personnel can obtain free legal help for urgent family, housing and consumer problems, as well as issues such as discharge upgrades and benefit appeals.
The free hotline can be accessed at 1-855-452-3526 (1-855-ILAFLAN) and is staffed by attorneys Monday through Friday from 9:00 AM until 4:30 PM. Serving as the entry point to the IL-AFLAN, the hotline will offer legal advice and brief services and then connect veterans and military personnel to legal aid providers near their community. Nine organizations, spanning every major area of the state, have received grants to provide legal aid services as part of the IL-AFLAN. To be eligible for services through this new program, veterans and active duty military members need to have an income less than 80 percent of the Chicago area median income. For a family of four, this translates into $63,000 annually.
Bicentennial Campaign will Honor 200 Illinois Veterans
State officials have announced the launch of HONOR 200, a signature program of the Illinois Bicentennial Celebration, honoring the work of 200 veterans whose contributions are above and beyond the call of duty.
The Illinois Department of Veterans Affairs will work with veteran's organizations throughout the state to promote HONOR 200 and solicit nominations for those who will be recognized as part of the program. Nominees will be evaluated on their achievements and on the extent to which their contributions have aided, benefited and provided inspiration to their community. Anyone can nominate an Illinois Veteran. Written nominations can be sent to the Illinois Department of Veterans Affairs, 69 W. Washington Street, Chicago, IL 60601 or on-line at www.illinois.gov/veterans.
The Official Illinois Bicentennial Celebration will begin on December 3rd, 2017 with events in Springfield and Chicago. The celebration will continue with programs and events throughout 2018, ending with the Bicentennial Birthday Party on December 3rd, 2018 at the United Center. The HONOR 200 veterans will be recognized during the Birthday Gala. For information on the Bicentennial and to find out how your community can participate go to www.illinois200.gov.