Lawmakers Override Several Vetoes during First Week of 2017 Veto Session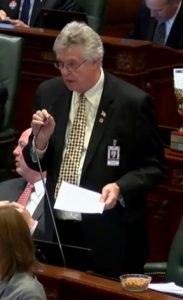 Members of the Illinois House met in Springfield on Tuesday, Wednesday, and Thursday of last week to reconsider vetoes issued by the Governor to the General Assembly earlier this year. Chief sponsors of the vetoed bills could ask their colleagues to consider voting to override the veto messages. Overriding a governor's veto requires a three-fifth majority in both houses of the General Assembly. In all, 11 vetoed bills were overridden in the House, while only two attempts to override a veto were unsuccessful in our chamber. A breakdown of last week's vetoed bill activity in the House can be found below:
One bill that was overridden in spite of significant objection was HB 3419, a bill that once again makes our State less business-friendly. This bill prohibits companies that take advantage of a perfectly legal federal tax provision from bidding on state contracts, and also prohibits the state's pension systems from investing in companies that park profits overseas legally (i.e. Apple). Given the current state of our pension systems and the dire need for the investments tied to the systems to deliver strong returns, I find it unconscionable that Illinois can no longer do business with some of the world's most successful companies. Worst of all, the fact is this was all done just to make a political point. I was outspoken with my opposition to the bill when it was discussed on Wednesday. You can view my floor comments here.
Lawmakers will return to Springfield for the second week of veto session November 7-9.
Extreme "Gun Grab" Bill Goes Down in Flames in IL House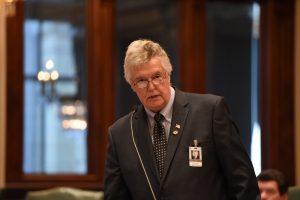 In the wake of the horrible shooting in Las Vegas, a number of bills have been introduced in the House which would infringe upon the Second Amendment rights of law-abiding gun owners. On Thursday, members of the House voted down
HB 4117
, a measure which would have made criminals out of lawful gun owners. The bill would have banned "bump stocks" and other "trigger modification devices," as well as prohibited the sale of "pre-packaged explosives" to anyone without a FOID card. While on the surface those unfamiliar with different types of firearms might think the bill was a step in the right direction, in reality, the bill was an extreme overreach that would have rendered most individuals who use their guns in competitions Class II Felons for simply owning the guns they use in contests. The fact is, most guns used in competitions have had trigger modifications. The bill only received 48 of the required 71 votes needed for passage, with Republicans and Democrats alike voting against it. I stood up for the Second Amendment rights of the people I represent and spoke out against this bill as it was debated on the House floor on Thursday. You can watch my floor comments
here
.
Rep. Reick Serves as "Principal for a Day" at Harvard High School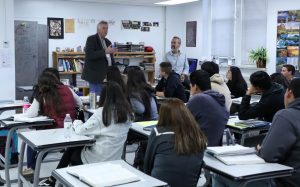 Yesterday I had an opportunity to step into the shoes of a school principal and experience a day in the life of a top school administrator at Harvard High School. The "Principal for a Day" program is offered through the Illinois Principals Association, and the experience provided me with a unique glimpse into the lives that principals live in their schools every day.
The "Principal for a Day" program, in place since 2004, is a statewide initiative to provide state and federal elected officials with an opportunity to observe, interact, and serve as an administrator in schools within their legislative districts. Thank you to Harvard High School for the invitation!
Illinois Completes $6 Billion Bond Sale to Pay Down Backlog of Unpaid Bills
The State sold $4.5 billion in general obligation bonds last week to pay down a portion of Illinois' roughly $15 billion backlog of unpaid bills. Proceeds from last Wednesday's bond sale, together with the proceeds from the $1.5 billion Series 2017ABC general obligation bonds that were sold competitively the prior week, will be used to help cut the State's backlog approximately in half by June 2018.
The State received orders from more than 100 institutional investors. The State locked in a combined cost of borrowing of 3.5 percent on the State's $6 billion in general obligation bonds issued to reduce the State's backlog. This is a significant reduction in the carrying cost of the State's backlog obligation, a portion of which has been accruing late payment interest of 9 to 12 percent.
Mobile Office Hours Continue in 63rd District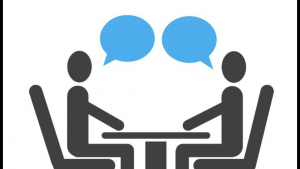 I've had great success with my mobile office hours events and appreciate those individuals who have stopped by to share their opinions and suggestions about the State's government. I have recently added three more events across the 63rd Legislative House District to make it easy for my constituents to have face-to-face conversations with me. My District Office Director joins me at these events and is available to help citizens with issues they are having with state agencies or departments. Find a location near you, and stop by and say hello!
Monday, November 6: Harvard Diggins Library, 900 E. McKinley Street in Harvard, 6:00 – 8:00 PM
Tuesday, November 14: Nippersink District Library, 5418 Hill Road in Richmond, 10:00 AM until 12:00 Noon
Wednesday, December 13: Johnsburg Public Library, 3000 W. Johnsburg Road in Johnsburg, 10:00 AM until 12:00 Noon
The 63rd Legislative House District is geographically very large and includes all or portions of Bull Valley, Chemung, Crystal Lake, Greenwood, Harvard, Hebron, Johnsburg, Lakemoor, Marengo, McCullum Lake, McHenry, Pistakee Highlands, Richmond, Ringwood, Spring Grove, Union, Wonder Lake and Woodstock. Because my Woodstock District Office is not conveniently-located for all residents of the 63rd District, each month I bring my office resources to another community so that those I serve have easy access to their representative voice in Springfield.
Plans Unveiled for Illinois Innovation Network
Plans were recently unveiled for an Illinois Innovation Network (IIN) to help ignite the state's economy through a $1.2 billion network of research universities, businesses, and public sector partners focused on the development of solutions in computing and big data, advanced materials, food and agriculture, and biosciences and health. The network will help ensure a knowledge-based, 21st century economy in Illinois where discovery and innovation are the focal points. The plan is to nurture the inventors and entrepreneurs of tomorrow by allowing them to hone their talents in Illinois. The network will be led by the University of Illinois System, with universities in Urbana-Champaign, Chicago and Springfield and satellite campuses in Peoria and Rockford. The University of Chicago and Northwestern University will be inaugural partners.