Lawmakers Return to Springfield for Fall Veto Session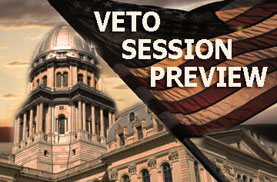 After spending the last few months in our home districts, members of the House and Senate will return to Springfield next week from October 24-26 and then again from November 7-9 to take action on pieces of legislation that received either an amendatory (partial) or full veto during this year's spring legislative session. During the veto session, legislators can agree with a full or partial veto, or we can override it. Not all bills that receive a gubernatorial veto are brought back for reconsideration. A full list of bills that may be brought back for reconsideration appears at the end of the newsletter.
There are also some pieces of new legislation that may be considered during the six-day fall veto session, including
HB 4114
, a bill I am co-sponsoring which would create the "No Taxpayer Funding for Abortion Act." HB 4114 was filed as a direct response to the recent signing of HB 40, which would force taxpayers to pay for abortion services for state employees and Medicaid recipients. HB 4114 is modeled after the federal Hyde Amendment, which prevents federal funding for abortions, other than for abortions sought in connection with pregnancies that result from rape or incest, or that threaten the life of the mother.
Again, a full list of vetoed bills appears at the end of this newsletter. If you have an opinion about a bill that received a veto this year, please share your comments with me so I can keep your opinion in mind if the bill is brought to the floor of the House for reconsideration.
Representative Reick to Host Three More Mobile Office Hours Events in November and December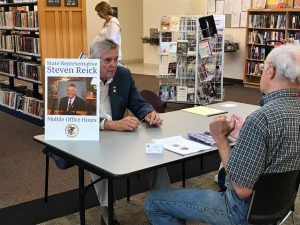 I've had a good response to my mobile office hours events and appreciate those individuals who have stopped by to share their opinions and suggestions about the State's government. I have recently added three more events across the 63rd Legislative House District to make it easy for my constituents to have face-to-face conversations with me. My District Office Director joins me at these events and is available to help citizens with issues they are having with state agencies or departments. Find a location near you, and stop by and say hello!
Monday, November 6: Harvard Diggins Library, 900 E. McKinley Street in Harvard, 6:00 – 8:00 PM
Tuesday, November 14: Nippersink District Library, 5418 Hill Road in Richmond, 10:00 AM until 12:00 Noon
Wednesday, December 13: Johnsburg Public Library, 3000 W. Johnsburg Road in Johnsburg, 10:00 AM until 12:00 Noon
The 63rd Legislative House District is geographically very large and includes all or portions of Bull Valley, Chemung, Crystal Lake, Greenwood, Harvard, Hebron, Johnsburg, Lakemoor, Marengo, McCullum Lake, McHenry, Pistakee Highlands, Richmond, Ringwood, Spring Grove, Union, Wonder Lake and Woodstock. Because my Woodstock District Office is not conveniently-located for all residents of the 63rd District, each month I bring my office resources to another community so that those I serve have easy access to their representative voice in Springfield.
Reick and Althoff Complete Series of Town Hall Meetings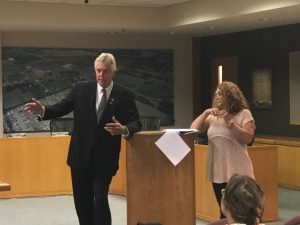 Last week Senator Pamela Althoff and I completed our final in a series of three public town hall meetings that were held across the 63rd District. Meetings in McHenry, Woodstock and Marengo all drew nice crowds of constituents eager to ask questions about the state of our state. Attendance grew each week, and culminated with a group of over 50 residents who joined us on October 11 at the Marengo City Hall. Thank you to everyone who came out for these town hall meetings. I appreciate the feedback received and look forward to our continued conversations.
October is Domestic Violence Awareness Month

Every year in October we acknowledge Domestic Violence Awareness Month in Illinois. The following statistics illustrate the severity of the issue:
Domestic violence affects one in three women and one in five men
Domestic violence takes lives: innocents and bystanders
Domestic violence has been found in the background of perpetrators in an estimated 56 percent of mass killings
Domestic violence ruins lives and creates traumatic after-effects that can last a lifetime, such as mental and physical illness, drug abuse and early mortality
In this region there are shelters available for those who need to escape a domestic violence situation. Visit https://www.womenshelters.org to find shelters in the McHenry County area.
State Report: Budget Out of Balance by $1.7 Billion
According to a fiscal policy report released last week by the Governor's Office of Management and Budget (GOMB), the state's fiscal year 2018 budget is out of balance by $1.7 billion. The Illinois Economic and Fiscal Policy Report provides a five-year economic outlook based on the budget along with state and national growth forecasts. The report is available for public view at https://www.illinois.gov/gov/budget/Pages/PolicyReports.aspx. In the report, GOMB Director Scott Harry asserts that with stronger economic growth accompanied by spending controls, Illinois could achieve budget surpluses and reduce its bill backlog to an estimated $500 million by the end of fiscal year 2023. As you may recall, I voted against this unbalanced budget because I felt it was bad for taxpayers (it included a $5 billion tax hike) and did nothing to reform our failed system of government.
ICC Approves $80 Million ComEd Refund to Customers
The Illinois Commerce Commission (ICC) recently approved ComEd's request to provide its customers with an approximately $80 million refund as a result of ComEd's efforts to implement the new Energy Efficiency funding mechanism established by the Future Energy Jobs Act. As a result, a typical ComEd residential customer will see a credit of close to $14 on their October monthly bill. ComEd had requested the refund as part of the transition made possible through the Act, which was signed into law last year.
Cook County Board Repeals Sweetened Beverage Tax
The highly controversial tax added one cent per ounce to the retail cost of many popular beverages. The "soda pop tax," disliked by many residents of the Chicago and suburban Cook County area, added an additional burden to the purchasers of most packaged sweetened drinks. After a public outcry, the Cook County Board repealed the beverage tax on Wednesday, October 11. As a result of the board's vote, the sweetened beverage tax will end on December 1, 2017.
Full List of Vetoed Bills
The following bills were vetoed by the Governor and may be brought back for reconsideration during this year's fall veto session:
As always, please do not hesitate to call me or write to me about issues that are important to you. You may reach my Woodstock District office at (815) 880-5340 or email me by going to www.repstevenreick.com and clicking on the "Contact" button.