Governor Rauner Signs Law Authorizing Taxpayer-Funded Elective Abortions
Last Thursday, Governor Bruce Rauner signed HB 40, highly controversial legislation that provides for taxpayer-funded elective abortions for Medicaid recipients and state employees. Current law dictates that state funds may only be used for abortion procedures in cases where the life of the mother is at risk and in cases of rape or incest. I voted against this bill when it was considered in the House and continue to strongly oppose it. This bill goes against longstanding bipartisan consensus that taxpayers should not fund elective abortions.
Governor Rauner's decision to sign HB 40 came after he publicly stated back in April that he would veto the legislation if it reached his desk. In fact, he told many members of the House Republican Caucus to our faces that he would not sign it. The Governor's decision to sign the bill was met with profound disappointment by Republican legislators and pro-life groups not only in Illinois, but all over the nation.
Regardless of where you stand on the abortion issue, the simple fact is that in politics, an elected official is only as good as his word. Governor Rauner has lost his credibility, because he broke a promise made to the House and Senate Republican caucuses and to faith-based groups throughout Illinois. Following the signing of the bill, I posted my thoughts as they relate to his decision to sign HB 40. Click here to read those remarks.
Rep. Reick Property Tax Seminar Draws Crowd of 200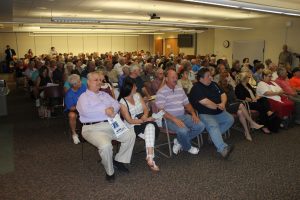 Nearly 200 taxpayers from Illinois' 63rd Legislative House District attended a property tax event I hosted recently at the McHenry County Government Center in Woodstock. The event offered attendees an opportunity to learn about the tax assessment process and how they could challenge an assessment they believe is too high.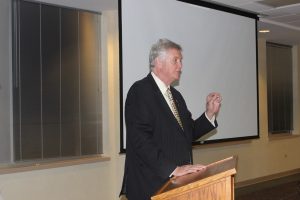 I was joined at the event by McHenry County Chief Assessment Officer Robert Ross, Dorr Township Assessor Veronica Myers and several other township assessors who service taxpayers living in the 63rd District. After a presentation and facilitated questions, attendees were able to ask specific questions to a panel of township assessors representing most townships within the 63rd District. Thank you to everyone who came out to the event, and a special thank you to all of the township assessors who attended so they could be available to answer questions specific to their township.
Mandatory Union Dues Case from Illinois Could Produce Significant U.S. Supreme Court Decision
The case of "
Janus v. AFSCME
" reflects the belief of many Illinois public-sector workers, including plaintiff Mark Janus, that their free-speech and free-association rights are violated by being forced to pay union dues as a condition of their employment. All of Illinois's neighboring states have enacted right-to-work laws that emancipate their workers, including public-sector workers, from the forced payment of union dues, but Illinois has not done so. Janus does not want to be associated with labor unions and wants the same rights as are enjoyed by workers in right-to-work states throughout the U.S.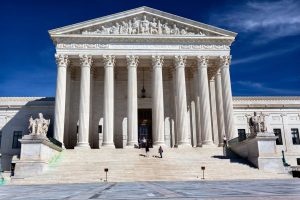 On September 28 a writ of certiorari was granted to enable this case to be argued before the United States Supreme Court. A decision could come before the end of the 2017-18 session of the high court. Legal observers believe that the current membership of the court is likely to split 5-4 in favor of the rights of workers as opposed to the rights of labor unions. Any decision, however, is likely to be limited to public-sector workers only. The points of law to be argued before the high court are not seen as directly affecting workers in the private sector.
Second Reick-Althoff Town Hall Meeting Scheduled for Wednesday, October 4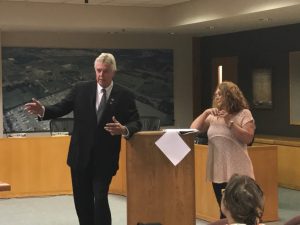 Senator Pamela Althoff and I held a successful town hall meeting in McHenry on September 19, and will continue our joint town hall meeting tour this week with a Wednesday, October 4 meeting in Woodstock. While the first event drew a nice crowd, I'm hoping for an even better turnout for this week's event, which will begin at 6:30 PM at the Woodstock City Hall, 121 W. Calhoun Street in Woodstock. We'll start with a short presentation, followed by a question and answer period. This is an excellent opportunity for citizens to let us know what issues are important to them and discuss with us the means by which we can address them. If you are unable to attend the town hall meeting this week, a third meeting is scheduled for Wednesday, October 11 at the Marengo City Hall, 132 E. Prairie Street, Marengo. It will also begin at 6:30 PM.
Not Too Early to Seek Financial Aid for the 2018-2019 Collegiate Year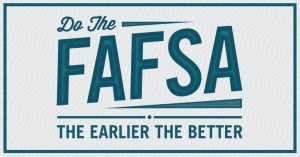 While the collegiate year has just begun for many college students, now is the time to begin the process for receiving financial aid for the 2018-2019 college year. Students can start applying for financial aid for the fall 2018 semester on October 1. By applying through
www.fafsa.ed.gov
, students will be considered not only for federal student aid, but also for the state MAP grant program and for college-specific aid. Free expert help is also available through a FAFSA completion workshop (dates can be found at
www.studentportal/isac.org/events
). Some grant programs deliver funds early, so apply soon to maximize your chances for receiving funds.
Students can get answers to their financial aid questions during an upcoming Facebook Live event. Simply like and follow "Illinois Student Assistance Commission" and ask them your questions between 7:00 – 7:30 PM on October 3, 11, 16, 23 or 30. A text message alert system is also available, and that information can be accessed through the ISAC College Q & A at
www.isac.org/collegeqa
.
The ISAC Student Portal, available at www.studentportal.isac.org, is a valuable tool filled with planning resources, including an interactive college prep checklist, financial aid estimators, career exploration tools and a scholarship search service.
College can be overwhelming, so the Illinois Student Assistance Corps is trained to help you navigate the college search, application, and financial aid processes- all for free. You can find the contact information for a Corps member near you by visiting www.studentportal/isac.org/isacorps.
McHenry County Conservation District to Receive "Best of the Best" Award

The McHenry County Conservation District will be recognized on October 13 with a "Best of the Best" award at the Illinois Association of Park Districts annual awards gala in Wheeling. Our conservation district is being honored in the intergovernmental cooperation category for its partnership with the Boone County Conservation District, Openlands, and the McHenry County Department of Transportation. They competed against other park districts, forest preserves, conservation and recreation agencies throughout the state in order to win the prestigious award. The McHenry County Conservation District is a model for outstanding work, and they are a shining example of why McHenry County is such a wonderful place to live, work and play.
Chicago Business Community Unites Behind Push for $5 billion Amazon Headquarters Campus 
Amazon.com has stated that they need additional workspace, not available at their current headquarters complex in Seattle, for management-level employees of the global retailing firm. Amazon expects that the overall economic activity to be sparked by their new "
second headquarters
" could create as many as 50,000 new jobs.
Many Chicago leaders believe that the city's workforce, with its skill set in logistics solutions, makes Chicago the ideal location for Amazon's new campus. A bipartisan panel of more than 600 Illinois business leaders is working to sell Illinois to the online retailing giant. House Republican Leader Jim Durkin has repeatedly expressed his support for the push.
Chicago-Based Outcome Health Announces Plans to Hire 2,000 Employees
The plans were announced last week by Outcome Health's CEO Rishi Shah. The Chicago-based software/AI firm provides differential diagnosis/differential treatment options to medical care providers. By going through their options on a screen, the medical care provider and the patient can achieve face-to-face collaboration on a treatment course of choice.
CEO Shah believes his firm's growth trajectory will lead to the firm taking on approximately 2,000 additional employees in the next five years, through 2022. Many of these workers will need to have science, technology, engineering, or mathematics (STEM) credentials. Outcome Health currently employs about 600 workers, many of whom work in downtown Chicago. The firm made its future-hiring announcement in the context of observing the opening of its new centralized office.