Mobile Office Hours Set for Marengo-Union Library on Sept. 12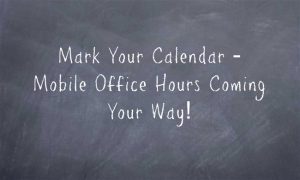 Residents of the 63rd Legislative House District are invited to meet with me at a mobile office hours event scheduled for Tuesday, September 12 at the Marengo-Union Public Library located at 19714 East Grant Highway in Marengo. The event is part of a series of mobile office hours meant to provide residents of the 63rd District with easy access to their elected Springfield representative. The 63rd District includes portions of several different municipalities, so I am very aware that my Woodstock District Office is not near the homes of many of my constituents. By holding office hours in other communities, the people I represent in Springfield can come to a convenient location and share their concerns and ideas. I'll have a table set up at the library from 10:00 AM until 12:00 noon.
Reick to Partner with Senator Althoff for Series of Town Hall Meetings
State Senator Pamela Althoff (R-McHenry) and I are partnering on a series of joint town hall meetings that will be held in McHenry County in September and October. The first meeting is scheduled for Tuesday, September 19 in McHenry.
All town hall meetings will begin at 6:30 PM, and will begin with a short presentation. A question and answer session will follow. Events are scheduled on the following dates:
September 19: McHenry City Hall, 333 S. Green Street, McHenry
October 4: Woodstock City Hall, 121 W. Calhoun Street, Woodstock
October 11: Marengo City Hall, 132 E. Prairie Street, Marengo
This will be an opportunity for citizens to let us know what issues are important to them and discuss with us the means by which we can address them. As the Springfield voice for those living in the 63rd District, this is an ideal way to hear what the District is thinking with regard to taxes, the receipt of state services and other quality of life issues. RSPVs are not required for these events. For additional information about the town hall meetings, please contact my office at (815) 880-5340.
Rep. Reick to Partner with Township Assessors for Session on Understanding & Appealing Property Tax Assessments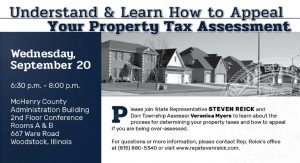 At a time when many homeowners feel they are being taxed out of their homes, it is important that they understand the property assessment process and know what remedies are available to them. On Wednesday, September 20 I'm bringing together several township assessors who serve those living in the 63rd Legislative House District for a free seminar on understanding the property tax assessment process and learning how to appeal property tax assessments. The event will be held from 6:30 PM until 8:00 PM in the 2nd Floor Conference Rooms at the McHenry County Administration Building, 667 Ware Road in Woodstock.
Joining me at this informational session will be McHenry County Chief Assessment Officer Robert Ross, Dorr Township Assessor Veronica Myers and several other township assessors who service my constituents. After a presentation and facilitated questions, attendees will have an opportunity to ask specific questions to a panel of township assessors representing most townships within the 63rd District. I hope you'll take advantage of this free opportunity to ensure you are being properly assessed and taxed.
New State Standards for Financial Literacy Coming to Illinois Schools
New state standards, adopted by the Illinois State Board of Education (ISBE) in February 2016, will be put into effect in the 2017-2018 school year by local school districts. The standards are meant to cover fundamental principles of financial literacy such as bookkeeping (balancing a checkbook) and financial planning (saving money on a regular schedule). The revised standards have been added to the social science curriculum and will be taught to all students starting in the elementary grades. Students will learn about debt, investments, and credit scores. Many school districts have already adopted standards of financial literacy that meet the newly adopted standards.
Technology Consulting Firm Announces Plans for Chicago Hiring
West Monroe Partners, a Chicago-based consulting firm which specializes in technology solutions, projects that it will hire 500 new employees over the next five years. The majority of new hires are expected to be STEM college graduates with joint-majors or credentials in business and enterprise. West Monroe Partners' CEO Kevin McCarty states that his employees perform contract deep customer-oriented analytics with their partner clients, and develop plans to increase their customer-relationship productivity. They also develop solutions for welding previously-incompatible information technology systems together when two or more firms are implementing a business combination.