House Democrats Play Games with Education Funding, Republicans Don't Play Along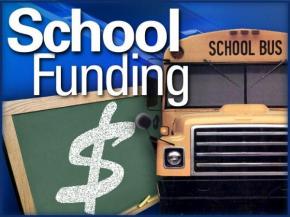 Despite the fact that school has started throughout the state, we've still not reached agreement on how public schools will be funded for the 2017-2018 school year. Following the Senate's vote on August 13 to override Governor Rauner's Amendatory Veto of
SB 01
, the Illinois House met in session last Wednesday. Unfortunately, the session was nothing more than an exercise in political theatre.
Rather than taking action on SB 01, the Speaker called us into session, at great cost to the taxpayers, for a vote on a fake bill,
SB 1947
, which mirrored the language of the Governor's amendatory veto, for the sole purpose of playing "gotcha" politics. His intent was to create a narrative that Republicans didn't support the veto, hoping that we'd all vote "no", just as every Democrat did. It must have come as a surprise to him that instead of playing along with his charade, every House Republican voted "Present".
It's sad to think that we've come to this, but perhaps our "Present" vote showed the strength of our caucus' rejection of gamesmanship and our commitment to fair funding. It'd be nice to think that we convinced the Speaker that it's time to actually come to the table and negotiate a funding bill that both sides can live with.
As this is being written, the four legislative leaders continue to meet and negotiate on how to change SB 01 in ways that will provide adequate funding and treat all Illinois school children equally, regardless of where they live and go to school. A fair and equitable education funding formula is in the best interest of all Illinoisans, students and taxpayers alike, and I am committed to working towards that goal.
Governor Signs Rep. Reick's First Bill Into Law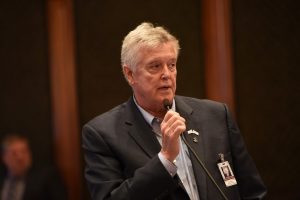 This week the first bill I authored as a State Representative was signed into law by Governor Rauner.
HB 2449
, signed into law Tuesday as Public Act 100-0264, strengthens protections for military personnel who are called to relocate in the course of their active duty. We have an existing Illinois Service Member Civil Relief Act, but the Act did not provide protections in all contractual service areas. HB 2449 fills in the gaps in the existing Act by providing that any service member, at any time after receiving military orders to relocate for a period of service of at least 90 days, may terminate or suspend contracts for Internet services, television and cable services, athletic club or gym memberships or satellite radio services. The new law also provides that a returning member of the military may reinstate the original provisions of contracts upon the completion of their service. These servicemen and women are answering a call to serve and are often asked to relocate with very little notice. They deserve to know that their credit rating will not deteriorate due to unpaid bills that accrue for services they are not using during the period of their relocation.
Rep. Reick to Partner with Senator Althoff for Series of Town Hall Meetings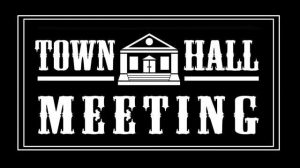 Residents of the 63rd House District are invited to attend a series of joint town hall meetings that I'll be co-hosting with Senator Pamela Althoff (R-McHenry) in September and October.
All town hall meetings will begin at 6:30 PM, and will begin with a short presentation. A question and answer session will follow. Events are scheduled on the following dates:
Tuesday, September 19: McHenry City Hall, 333 S. Green Street, McHenry
Wednesday, October 4: Woodstock City Hall, 121 W. Calhoun Street, Woodstock
Wednesday, October 11: Marengo City Hall, 132 E. Prairie Street, Marengo
This will be an opportunity for you to let us know what issues are important to you and discuss with us the means by which we can address them. I want to hear what you're thinking with regard to taxes, the receipt of state services and other quality of life issues. RSPVs are not required for these events. For additional information about the town hall meetings, please contact my office at (815) 880-5340.
Gov. Rauner Signs Series of Agriculture Bills on State Fair's Agriculture Day
On Agriculture Day at the Illinois State Fair last week, Gov. Bruce Rauner signed a series of agriculture bills, including HB 470, which designates corn as the official state grain of Illinois. Gov. Rauner also signed several other bills that were initiatives of the Department of Agriculture. These bills, many of which seek to cut red tape, will reduce regulations and agency costs within the department.
"Agriculture is the backbone of Illinois' economy, and it's critical to future prosperity in the state," Gov. Rauner said while signing the bills. "We need to continue to support our state's farmers and the Department of Agriculture in every way we can."
One of the bills is specifically designed to advance agriculture in Illinois. SB 1991, which passed unanimously out of the General Assembly, creates an Agriculture Education Shortage Task Force to examine the status of agriculture education in the state. The task force also will make recommendations for how to expand recruitment and retention of agriculture educators. The task force will disband once the final report is completed.
Gov. Rauner Requests FEMA Teams for Flood Damage Assessments
The Governor has asked the Federal Emergency Management Agency (FEMA) to join the state in conducting damage assessments in areas of Lake, McHenry, Kane and Cook counties after record and near-record flooding in July. The request was submitted after initial damage assessments conducted by county officials documented nearly 300 homes that suffered major damage or were destroyed and more than 3,000 others that also were affected by flood waters.
Personnel from FEMA, the Illinois Emergency Management Agency (IEMA), the U.S. Small Business Administration (SBA) and local emergency management agencies began assessing damage to homes and businesses last Friday morning. The assessments will continue through the weekend and into this week until complete.
IEMA also is working closely with municipalities, counties and other governmental bodies in the four impacted counties to document their costs related to the flooding. That assessment will help determine whether the state could meet the federal threshold of $18.3 million for assistance that could help government agencies receive reimbursement for some of those flood-related expenses. The State Emergency Operations Center in Springfield was activated for two weeks to support flood fighting efforts in these four counties, along with subsequent flooding in the northwestern part of the state.
SBA Issues Disaster Declaration for Flood Area
The Small Business Administration has issued a Disaster Declaration for Boone, Lake and McHenry counties, and adjacent counties in Wisconsin, which will allow residents and businesses in the region severely affected by the recent flooding to apply for low-interest SBA disaster loans.
In addition, the SBA's Economic Injury Disaster Loan Program (EIDL) can provide up to $2 million of financial assistance to small businesses or private, non-profit organizations that suffer substantial economic injury as a result of the declared disaster, regardless of whether the applicant sustained physical damage. For more information or to apply online using the Electronic Loan Application (ELA), go to: https://disasterloan.sba.gov/ela.
Government Consolidation Bills Signed into Law
Last week, the Governor signed two consolidation bills, SB 03 and HB 607, which adopt five of the 27 recommendations made by Lt. Gov. Evelyn Sanguinetti's Task Force on Local Government Consolidation and Unfunded Mandates.
SB 03 expands DuPage County's consolidation pilot program to all 102 counties of Illinois, giving each the authority to dissolve or consolidate some government units whose boards are appointed by the county. It also will allow townships in the state to consolidate with coterminous municipalities via referendum. HB 607 amends the Illinois Highway Code and allows the board of trustees of any township located in a county with less than 3 million inhabitants to submit a proposition during a general or consolidated election to abolish the road district in their county, a power already extended to townships in Cook County.
I voted against both of these bills because neither of them provided a means by which the debt or contractual obligations of one district wouldn't be imposed upon the combined or successor entity. For instance, if two districts were slated for consolidation, one of which had outstanding debt while the other didn't, the citizens of the latter district could be held liable for payment of that debt. I'm not against consolidation in theory, but not if it's going to impose greater costs upon taxpayers.
Senior Services Seeking Volunteers
McHenry County is home to a number of older individuals who have developed a lifetime of skills, talents, experience and a work ethic that makes them a valuable resource in their communities. McHenry County Senior Services is looking for community-minded individuals over the age of 55 to engage in a variety of volunteer activities across the county. The retired and senior volunteer program offers residents opportunities to work in all kinds of settings, including:
Working with preschool children
Working in a resale shop
Working on one-time assignments like mailings or events
Delivering meals to homebound seniors
Driving seniors to appointments
Visiting with lonely or isolated seniors
If you would like to lend your time and talents in ways that can make a real difference in the lives of McHenry County seniors, please call Senior Services Associates at (815) 344-3555 or visit their web site at www.seniorservicesassoc.org.
Mark Your Calendars for Upcoming District 63 Events

The town hall meetings scheduled for September and October are just a few of the upcoming community outreach events I have scheduled for the coming weeks. My full fall event calendar includes:
Tuesday, September 12: Mobile Office Hours, 10:00 AM until Noon, Marengo-Union Library, 19714 E. Grant Hwy, Marengo
Tuesday, September 19: Town Hall Meeting, 6:30 PM, McHenry City Hall, 333 S. Green Street, McHenry
Wednesday, September 20: How to Understand and Appeal Your Property Tax Bill & Assessment, 6:30 PM until 8:00 PM, McHenry County Administration Building, 2nd Floor Conference Rooms A & B, 667 Ware Road, Woodstock
Wednesday, October 4: Town Hall Meeting, 6:30 PM, Woodstock City Hall, 121 W. Calhoun Street, Woodstock
Wednesday, October 11: Town Hall Meeting, 6:30 PM, Marengo City Hall, 132 E. Prairie Street, Marengo
Wednesday, October 18: Mobile Office Hours, 6:00 PM to 8:00 PM, Harvard Diggins Library, 900 E. McKinley Street, Harvard
RSVPs are not required for these events. For more information, please contact my Woodstock office at (815) 880-5340.