Legislators Back in Springfield to Tackle School Funding for FY 2018
Lawmakers are back in Springfield today to tackle the issue of K-12 Education funding for the 2017-2018 school year. Even though SB 01 passed the House and Senate in May, it is currently being held back from the Governor's desk through a procedural maneuver. The purpose of this stall tactic is purely political, with the Chicago Democrat-led super majority in the Senate using the potential crisis of some schools not opening as leverage in their scheme. Using children as pawns in a political game of chess is completely unacceptable.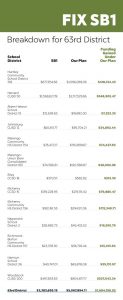 Just like the budget fiasco that was settled in early July, the people of Illinois are tired of these political cliffhangers. These games are no laughing matter and my House Republican colleagues and I will not tolerate their attempts to hold the start of school hostage until they get yet another bailout for Chicago Public Schools (CPS).
The recently passed budget contains $778 million in funding for K-12 public schools. The major complaint that we share with the current version of SB 1 is that Chicago would receive a disproportionate share of these education dollars. The way the bill currently reads, 64% of all new funds ($495 million of the $778 million) for education are directed to Chicago Public Schools, despite the fact that they only have 19% of the state's students.
Also, $215 million of the $495 million allocated to Chicago in the current version of SB 01 would be used to pay Chicago teacher pension system payments in perpetuity. That redirection of state funding would be unprecedented and is not something we can support. That pension payment, in combination with the block grant that CPS gets for special education and transportation services, along with regular general state aid payments to CPS would give Chicago schools three bites at the funding apple. That is fundamentally unfair.
I support a plan that eliminates that extra $215 million payment to CPS pensions and allows that money to be redistributed through the new evidence based model formula so that every school district in the state is treated the same.
In order to fix SB 1 to reflect our priorities for public schools in Illinois, we are supporting a plan offered by Governor Rauner that includes a "re-write" of SB 01 via the amendatory veto tool that the Governor has at his disposal. This re-write would mean that those extra pension payments for Chicago would be eliminated and a more fair and equitable distribution of funding to K-12 schools can occur.
The 63rd District is home to 42 public schools. Applying the Governor's proposed fix to SB 01 would mean that all of the schools in the 63rd District will receive more funding than if the bill becomes law with the Chicago bailout language included. The chart to the right illustrates how the school districts in this area would be affected by SB 01 as written, and with the fixes proposed by Governor Rauner.
I urge Senate President John Cullerton to release his hold on SB 01 and allow the Governor to amendatorily veto SB 01. This will ensure our schools will open on time and that Chicago does not get a bigger piece of the education budget than they should. We need a deal that is fair to all taxpayers, and we need to take action to fix SB 01 without delay.
Reick Senior Fair Set for Thursday, July 27

This week on Thursday, July 27, I invite all seniors from the 63rd District to attend a free Senior Fair that will be held in Woodstock. For this community outreach event, my staff and I are bringing several not-for-profit organizations, businesses and medical professionals together under one roof. The fair will take place from 10:00 AM until noon at St. John's Lutheran Church, 401 St. John's Road in Woodstock. Seniors and those who help care for them can visit booths staffed by agencies that assist seniors, and register for a chance to win a door prize. Helpful guides, literature and other resources from state, county and local government agencies will also be available. No pre-registration is necessary. For additional information, please contact my district office at (815) 880-5340.
Rep. Reick Sets Mobile Office Hours at McHenry Library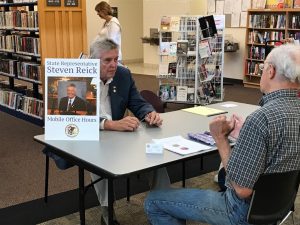 The 63rd District is geographically quite large, so this summer and fall I'm bringing my office to my constituents through a series of mobile office hours events. Two weeks ago I held a very successful event in Woodstock, and next week I am making myself available on Tuesday, August 1, from 10:00 AM until noon at the McHenry Public Library, located at 809 Front Street in McHenry. These outreach events provide me with an excellent opportunity to connect with the people I represent in Springfield. By talking with constituents and learning about the state issues that are important to them, I'm able to bring their priorities to Springfield by serving as their voice. No appointment is needed. Future mobile office hours dates and locations will be posted on my web site at
www.repstevenreick.com
.
Floodwaters Begin to Recede; Cleanup Projects Underway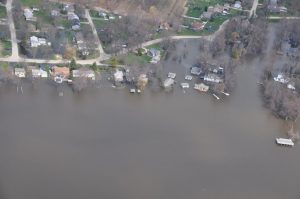 The flooding in our region over the last two weeks has been unprecedented, with an estimated 7,000 buildings/homes suffering significant damage. On July 14, Governor Rauner visited affected communities and issued a disaster declaration for many counties, including McHenry, Lake and Kane. Upon making the declaration, he also directed Illinois Emergency Management Agency Director James Joseph to activate the State Emergency Operations Center as needed to coordinate any requests for assistance from flood-impacted communities.
Please visit the
McHenry County web site
for comprehensive information about available resources for those affected and about how homeowners can report their flood damage. A helpful "Frequently Asked Questions" document has also been made available by the Illinois Department of Emergency Management. You can access that document
here
.
Cooling Stations are Ready to Help Illinois Residents Battle the Summer Heat
As part of Illinois' Keep Cool Illinois campaign, over 120 state facilities are now available as cooling centers. The cooling centers will provide Illinoisans a place to stay cool and comfortable during hot summer days. The following locations offer free cooling centers for Illinoisans:
Tollway Oasis locations are open 24 hours a day, 7 days a week
Department of Human Services cooling centers are open during normal business hours from 8:30AM – 5:00PM, Monday through Friday.
Click here to find a cooling station near you. For more information about DHS Cooling Centers, please call the Illinois Department of Human Services hotline at (800) 843-6154 during normal business hours.