Reick Stands Up to Madigan Pressure; Votes Against $5 Billion Tax Hike
The two-year budget impasse ended last week on July 6 when members of the House of Representatives overrode a series of budget-related vetoes by Governor Rauner. Sadly, the already overtaxed citizens of this state will once again have to reach deeper into their pockets to fund the tax-and-spend status quo in our State.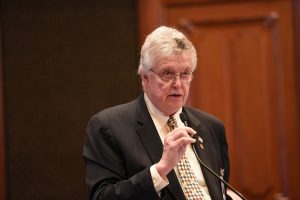 On behalf of every struggling family in McHenry County, I stood up to the pressure of Mike Madigan and public sector unions and voted No on the massive income tax hike. I was not sent to Springfield to raise taxes on the people I represent. I was sent to Springfield to fight for substantive property tax relief. Nothing even remotely resembling property tax relief was brought to the floor for our consideration.
Despite the efforts of most of my Republican colleagues and me, the three quick votes taken last Thursday essentially made Illinois an even less desirable place to work and live. As a result of the overrides, taxes on Illinois families will increase by 32% retroactive to July 1. The $5 billion in new revenue will be collected by permanently increasing the individual income tax rate to 4.95% and the corporate rate to 7%. I was vocal with my opposition to the tax increase when it was debated on the floor of the House.
Click here
to watch those comments.
I am deeply disappointed that rather than seeking a broad, bipartisan consensus on a balanced budget with reforms, Speaker Madigan and the majority Democrats chose to walk away from productive negotiations with Republicans which were nearing agreement at the end of June. Instead of completing work on an agreement that would help struggling taxpayers, grow jobs and boost the Illinois economy, no legislation in these critical areas was brought forward for a vote. In the end, many lawmakers succumbed to what one of my Republican colleagues referred to as a "blackmail budget." We will have a continuation of the same failed policies of the past; it will just be costlier for taxpayers.
In total, McHenry County taxpayers are now on the hook for an additional $173.7 million in taxes. Click here to access a calculator to determine how much the $5 billion tax increase will cost your family.
Reick Launches Mobile Office Hours Tour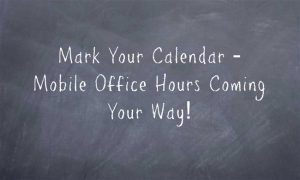 The 63rd District is geographically very large, and starting next week I'll be bringing my office to you. On Wednesday, July 12, I will hold the first of a series of mobile office hours events. This first event will take place at the Woodstock Public Library, located at 414 W Judd St, from 10:00 AM until noon. The public is invited to stop by and share their comments and concerns about the State of Illinois.
I plan to personally staff these events so I can talk one-on-one with the people I represent. My staff will also be available to help explain the services my office can provide. No appointment is needed. Future mobile office hours dates and locations will be posted on my web site at
www.repstevenreick.com
.
Capitol Building on Lockdown Prior to Budget Override Votes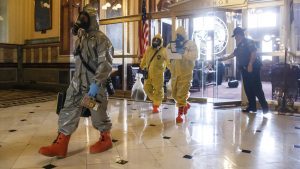 For two hours on Thursday afternoon, the Illinois Capitol was on lockdown after a woman threw a powdery substance into the office of Governor Bruce Rauner and at other locations on the second floor of the building. As a precaution, the ventilation system was turned off while the substance was analyzed. The Springfield Fire Department and a Hazardous Materials Unit were called to the scene, and the substance was removed and later determined to be non-threatening. I must tip my hat to the first responders, because they arrived immediately, and were thorough with their on-site investigation into the incident. The woman who threw the powdery substance was arrested and eventually released. The Sangamon County State's Attorney is investigating the incident and will decide if charges will be filed. After the Capitol was deemed safe, I was interviewed by a local television news reporter. You can watch that interview
here
.
Prior to Override Votes, Reick Joins Lawmakers on Chicago Tonight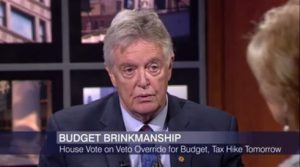 On Wednesday evening, the day before the override votes, I joined State Representatives David Harris (R-Arlington Heights), Margo McDermed (R-Frankfort) and Senator Heather Steans (D-Chicago) on Chicago Tonight to discuss the budget impasse and why we each voted the way we did on the tax increase and budget bills.
Click here
to watch the Chicago Tonight segment.
Gavers Community Cancer Foundation Barndance Set for This Saturday
On Saturday, July 15, the Gavers Community Cancer Foundation will hold its annual Barndance fundraiser at Emricson Park, 900 W South Street in Woodstock from 5:00 PM until midnight. In its 15th year, the Foundation has raised over $6 million for cancer programs. The Gavers Foundation is named after cancer survivor Steve Gavers, and 100% of the event proceeds go to cancer programs. This 21 & older event sells out every year and tickets are required.
Click here
for more information about this very worthwhile event in our community or to purchase tickets.
Reick: "It's Time for Chicago to Start Paying It's Fair Share"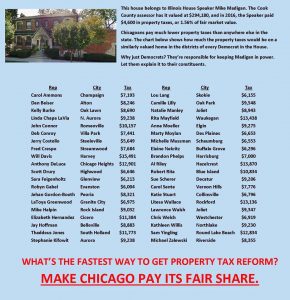 During a Committee of the Whole meeting a few weeks ago, I spoke about how property tax bills are calculated in Chicago as compared to how they are calculated in all other parts of the state. As an example of the inequity that exists in taxation, I pointed to House Speaker Mike Madigan's Chicago home, which has a fair market value of $294,000 and a recent property tax bill of $4,600. I then ran Madigan's exact tax information through the formula used for the rest of the state, and determined that the Speaker's house, if it was located in Woodstock, would have a property tax bill of over $11,000, which is more than 2 1/2 times what he paid in property taxes for his $294,000 home in Chicago.
Click here
to watch my floor comments during the property tax discussion leading up to the initial passage of the bill.
We're not going to get property tax reform until Chicago begins to pay taxes the same way the rest of us do. This chart shows how much Speaker Madigan would pay in property taxes if his home was in a city in each of his Democrat caucus' district outside of Chicago. If Chicago won't pay its fair share, it has no business coming to the rest of us for bailouts and other preferential treatment.
Illinois State Police Recruiting: Deadline for Applying is July 15th

The Illinois State Police Merit Board is currently processing applications for Cadet Class 127, tentatively scheduled for February 4, 2018. In order to be considered for Cadet Class 127, the Merit Board must receive your completed application and required documentation by July 15, 2017.
Click here
for additional information.
Education Requirement Update
Effective July 1, 2017, Any person who has been honorably discharged who served in a combat mission by proof of hostile fire pay or imminent danger pay during deployment on active duty, or has served 3 years of full active and continuous military duty and received an honorable discharge, meets the collegiate educational requirement of the Department of State Police.