Another week in Springfield ended on Friday without progress on a bipartisan, balanced budget that will grow our economy and address the major fiscal issues facing our state. Rather than focusing on this most pressing need, House Democrats spent last week appeasing their base and attempting to distract taxpayers around the state from their refusal to pass a balanced budget. Unbelievably, last week alone House Democrats voted on legislation that, in total, would cost the state more than $295 million. That's $295 million that Illinois simply does not have.
When the House returns to Springfield on May 9, there will be less than a month for us to do our job and pass a balanced budget. I have made it clear to my colleagues on both sides of the aisle that I am ready to do this critical work; I'm ready to make the tough decisions that are needed so we can once and for all end the budget stalemate and provide taxpayers with some meaningful relief.
Reick Releases Results of 2017 Winter Survey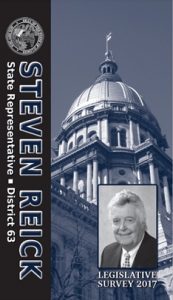 As your Representative in Springfield, your opinions are important to me. In February, my office mailed a legislative survey to approximately 35,000 District 63 households. An online version of the survey was also posted on my web site. I'm pleased to report that approximately 500 households participated. The results of the survey fell right in line with the types of comments I hear every day from the people I represent- that they're fed up with the grid-lock and want lawmakers to cut the wasteful spending and approve a balanced budget.
The survey included 11 multiple choice questions and also provided participants with an opportunity to add additional feedback and suggestions through an open-ended question. When asked what they felt the most important issue currently affecting the State of Illinois was, 54% of the respondents pointed to budgets and deficits as the state's largest problem, and an additional 21% said the need for pension reform was the state's greatest challenge.
Respondents were split nearly 50-50 with regard to whether or not they had personally been affected by the budget impasse, and when asked how lawmakers should go about balancing the budget, the most popular response was to use a combination of budget cuts and new revenue (increased taxes). For that question a large number of respondents wrote in their own preferred method for budget management, with several asking legislators to take steps to eliminate all wasteful spending.
In recognition of the burden that unfunded mandates place on schools, 71% of those who participated in the survey said they would support a ban on unfunded mandates. In a question regarding the possible expansion of gambling in Illinois, again 71% said they were opposed to any further expansion of the gaming industry. On a question about a possible tax on services in Illinois, respondents were split almost down the middle, with a slight majority of respondents weighing in against a service industry tax.
I appreciate everyone who took the time to respond to the survey. Click here to view the full survey results.
University of Illinois Students Showcase Undergrad Projects at State Capitol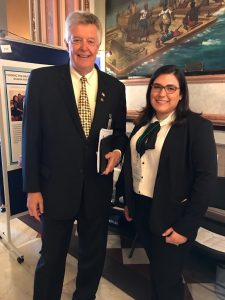 The 4th Annual University of Illinois Undergraduate Research Day was held at the state capitol on Tuesday, April 25, and bright students from the Urbana-Champaign, Chicago and Springfield campuses were in town to showcase their scholarly achievements and present their work to the public. I had a nice conversation with Katelyn Camardelle of McHenry, who shared a very impressive project.
From what I understand, students are selected for the Springfield showing in a competitive process by the Undergraduate Research Steering Committee. In all, each campus had 30 student representatives on site to explain their projects to lawmakers and visitors to the capitol.
Reick Welcomes Page for a Day to Springfield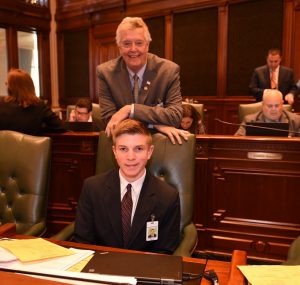 On Monday, April 24, I welcomed Cole Hostasa to Springfield to serve as a Page for a Day. Cole turns 15 years old this week and he attends Marmion Academy in Aurora. He enjoys playing ice hockey and lacrosse and is a member of St. Peter's Church.
I really enjoy spending time with District 63 students and families when they visit the State Capitol. If your family or school group will be visiting Springfield while the legislature is in session, please let my Springfield office know so that I can say hello and talk with you. If your child would like to view the House of Representatives in action from the House Floor, please let my Springfield office assist with scheduling a visit. I also have a family pass for the Abraham Lincoln Presidential Museum that my constituents visiting Springfield may use. You may reach my Springfield office at (217) 782-1717.
Illinois Awarded $16 Million Grant to Fight Opioid Crisis
The Illinois Department of Human Services (IDHS) was recently awarded a federal grant for over $16 million to fight Illinois' opioid crisis. The grant is funded through the 21st Century Cures Act, which includes an estimated $1 billion to states over the next two years to combat the nation's opioid crisis. Grants will be administered by the Substance Abuse and Mental Health Services Administration under the State Targeted Response to the Opioid Crisis Grant program.
The grant supports new treatment and recovery services, including the establishment of an Opioid Crisis Line and expanded medication-assisted treatment for individuals with opioid use disorder. The funding will also support opioid-related enhancements to the Illinois Prescription Monitoring Program (PMP), the launch of a statewide opiate awareness campaign, new pilot programs to provide medications to treat opioid use disorder, and pre-release and post-release services for individuals who are incarcerated in county jails. In addition, this award will support a widespread expansion of the training of first responders to an opioid overdose and the availability of the overdose reversal medication Naloxone, commonly referred to as Narcan.
Drug overdose deaths in this country nearly tripled from 1999 to 2014. Among the 47,055 drug overdose deaths that occurred in the U.S. in 2014, 28,647 (60.9 percent) involved an opioid. Like many states, Illinois has recently experienced a notable increase in drug overdose deaths that can primarily be attributed to an increase in opioid overdose deaths. Provisional death records data obtained from the Illinois Department of Public Health (IDPH) show 2,278 drug-related overdose deaths during 2016. This represents a 44.3 percent increase over the 1,579 drug-related overdose deaths that were reported by IDPH for 2013. Through the Illinois Opioid Crisis Response Advisory Council, The Illinois Department of Human Services and many other state agencies are coordinating the state's efforts to develop a statewide opioid epidemic preparedness and prevention strategy.
Reick Meets With Newly Elected Officials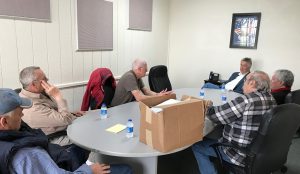 I recently extended my congratulations via individual letters to those who were elected to serve local units of government in this area in the April 4 Consolidated General Election. I'll be working closely with many of these public officials, as we have overlapping and shared constituencies. During the first half of this week,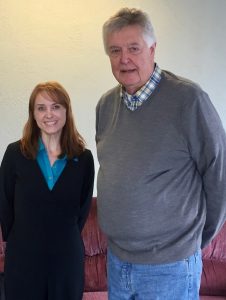 I had the pleasure of meeting with a few of the new public officials that will serve constituencies located within the 63rd House District. On Monday, I met with some of the new McHenry Township Trustees and the Township Clerk in my Woodstock Office. Then on Tuesday I had a nice conversation with Veronica Myers, the Dorr Township Assessor. Meetings with members of city councils and school boards are also planned for later in the week. I look forward to working with these and other elected officials as we strive to do good work on behalf of the residents we serve.
Reick Serves as Principal for a Day at Johnsburg High School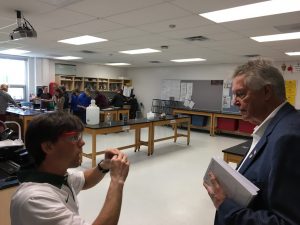 On Monday I had an opportunity to step into the shoes of school principals and experience a day in the life of a top school administrator. The "Principal for a Day" program is sponsored by the Illinois Principals Association. It was an enjoyable experience, and it provided me with a unique glimpse into the lives that principals live in their schools every day. I'm shown in this picture with Johnsburg High School Biology Teacher Chris Setzler, who explained the details of a DNA lab the students are conducting this week.
According to Alison Maley, Director of Government Relations for the Illinois Principals Association, the "Principal for a Day" program is a statewide initiative to provide state and federal elected officials with an opportunity to observe, interact, and serve as an administrator in schools within their legislative districts. The Illinois Principals Association is a leadership organization that serves more than 4,500 educational leaders throughout Illinois. Legislators have been encouraged to participate in the Principal for a Day program since 2004.