Lawmakers Work to Gain Committee Approval of Bills Prior to March 31 Deadline
With just two weeks remaining for House members to move their bills out of a substantive committee, last week we spent most of our time attending committee meetings where we vetted hundreds of bills. We are now also beginning to take votes on the House floor on the initiatives that have successfully cleared a committee. Most of our time will continue to be spent in committees through the end of the month, and during the first two weeks of April we will be taking final action on House Bills on the floor.
Reick to Serve on New Education Funding Task Force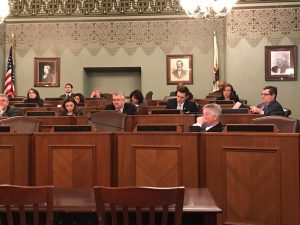 Changing the education funding formula in a way that maximizes students' opportunities for success while easing the current over-reliance on property taxes is one of my highest priorities as a lawmaker. Because I have been outspoken in this area, I was recently selected to serve alongside 12 other House Republicans and 13 House Democrats on a new Education Funding Task Force in Springfield. The task force will be led by Democrat Majority Leader Barbara Flynn Currie (D-Chicago) and Republican State Representative Bob Pritchard (R-Hinckley). As a bipartisan group, we will review the findings of Governor Rauner's 2016 bipartisan, bicameral Illinois School Funding Reform Commission, and work toward a legislative solution to provide, once and for all, a revamped funding formula that provides a more equitable and adequately funded system for educating all students.
It is important to me that this new group pick up where the Governor's commission left off and not re-hash issues that have been discussed over and over again before previous education funding task forces. Our goal is to move forward; to use the results of the Governor's commission as our starting point with an ultimate goal of bringing forward a legislative solution this session year. The task force held its first meeting last week, and we met again this morning. We will continue to meet throughout the spring session.
The school superintendents who represent schools located within the 63rd District are aware of my appointment to this commission, and I have asked them all to provide input and ideas.
Legislation to Increase and Standardize Requirements for Elected Official Pensions Clears Committee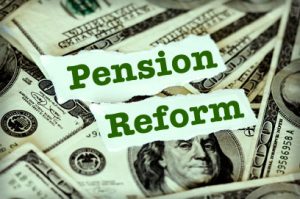 I hear regularly from constituents who are taxed to their limit and looking for relief. This year I am a Chief Co-Sponsor of
HB 291
, which seeks to increase the number of hours per year an elected official must work to become eligible for a pension through the Illinois Municipal Retirement Fund (IMRF). Today, state law only requires an elected official to work 600 hours per year to become pension-eligible, but the new rule would require 1,000 hours per year for eligibility. The bill passed unanimously out of the House Personnel & Pensions Committee last Thursday.
IMRF rules currently require each unit of local government certify the elected positions which meet the hour threshold biannually. HB 291 would set a uniform standard across the state that all eligible elected positions work 1,000 hours. HB 291 will now move to the floor of the House for full consideration and a vote.
Still Time to Take Reick Legislative Survey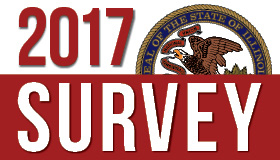 My first legislative survey was mailed to households in the 63rd District a few weeks ago and my office is receiving a good response. Still, if I am to properly represent the priorities of those who live in northern McHenry County, I am hoping to have even greater participation. In addition to the paper version that should have arrived in your mailbox, the survey can also be found at
http://www.ilhousegop.org/2017reick
. The survey includes 11 multiple choice questions and an open response area where additional concerns can be shared. I will read every survey that is returned or submitted and will collect responses through March 31.
House Republicans Promote Free Solution to Web Site Translation Issue
Last week we spent over a half hour debating a bill on the House floor that would have authorized an expenditure of about $1.5 million to translate portions of the
www.ilga.gov
web site into Spanish. My colleague
State Representative Keith Wheeler
(R-Oswego), spoke up during the debate and asked why we would spend $1.5 million in taxpayer funds to address an issue when free Internet software is available that would produce a more effective and inclusive result. Rep. Wheeler pointed to Google Translator, an Internet tool that can translate any web-based text into several different languages at the click of a button. Best of all, this solution is free; it wouldn't cost taxpayers a dime. Anyone with access to the Internet can now find a translated version of
www.ilga.gov
in any of the most common languages spoken in Illinois simply by clicking on the links below:
Spanish
Español
Arabic
عربي
Hindi
हिन्दी
Chinese (Simplified)
中文简体
Chinese (Traditional)
中文繁體
Japanese
日本語
Korean
한국어
Russian
Русский
French
Français
German
Deutsch
Italian
Italiano
Polish
Polski
Greek
Ελληνικά
The Illinois General Assembly website contains legislator profiles, full text of all legislation introduced in the House of Representatives and State Senate, live audio and video feeds of legislative session and committee hearings; and a wide variety of other legislative information and support services.
House Bills Begin to Move to the Senate
Bills that have been successful at the House Committee level and on the House floor are beginning to arrive in the Illinois Senate for consideration. Several initiatives for which I serve as a co-sponsor have already made their way across the hall to be considered by our colleagues in the Senate. Some of those bills include:
HB 222: This legislation will save our institutions of higher learning money. Whereas today all printed materials for our colleges and universities must be done with soybean oil-based ink, this bill allows the use of a less expensive alternative. The law does not apply to digital printing services. The University of Illinois, Western Illinois University, Eastern Illinois University, Southern Illinois University, Illinois State University, Governor's State University, the Sierra Club of Illinois and the Illinois Environmental Council have all weighed in as being in favor of HB 222.
HB 643: This taxpayer protection bill would eliminate pay raises for Illinois lawmakers for the upcoming fiscal year. It would prohibit any raise or cost-of-living adjustment (COLA) for the time period from July 1, 2017 through June 30, 2018. In addition, mileage reimbursement amounts for members of the House and Senate would be frozen at the FY 2017 level.
HB 1797: This is a technical bill brought forward by the International Port District to address audit findings related to a liability tied to a loan it received back in 1979. The loan was not repaid because profitability levels never reached a point where repayment of the loan could begin. This causes a problem for the port district when they want to issue bonds for other development projects. The cost of debt is higher for them due to the large outstanding balance.
As your voice in Springfield, I'm working to make our state and our communities the best they can be. If you have any questions or concerns or would like to invite me to speak to a group in the 63rd District, please contact my office at (815) 880-5340 or go to www.repstevenreick.com and click the contact button.