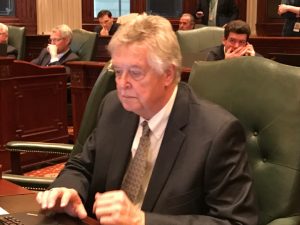 State Representative Steve Reick (R-Woodstock) is a leading House Sponsor of legislation that eliminates pay raises for Illinois lawmakers for the upcoming fiscal year.
HB 3790, which has been assigned to the House Executive Committee for a hearing, would prohibit any raise or cost-of-living adjustment (COLA) for the time period from July 1, 2017 through June 30, 2018. In addition, mileage reimbursement amounts for members of the House and Senate would be frozen at the FY 2017 level.
"As lawmakers struggle with Illinois' immense financial pressures, we need to lead by example by not adding to increased costs," said Reick. "I am more than willing to forego a pay increase or cost-of-living adjustment to send a message that we take the state's financial woes very seriously and want to be part of the solution."
The current base salary for a State Representative is $67,836.