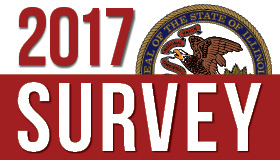 State Representative Steve Reick (R-Woodstock) invites all residents of Illinois' 63rd House District to complete his 2017 Winter Survey. The survey was recently mailed to households in the district, and it can also be accessed at http://www.ilhousegop.org/2017reick.
"These survey results will be a valuable tool as I represent the issues and priorities of the 63rd District in Springfield," said Reick. "Difficult votes are coming, and I want to be sure I have a solid understanding of my constituents' expectations."
The survey includes 11 multiple choice questions and an open response area where additional concerns can be shared. Participants will also be offered an opportunity to subscribe to an E-newsletter that will include updates on legislation and other issues affecting McHenry County and the State of Illinois.
"I encourage all residents to take a few minutes to complete my survey," Reick said. "I will read every one of them, and can't wait to see the results."
Survey responses will be accepted through April 15 and results will be published in late April or early May.