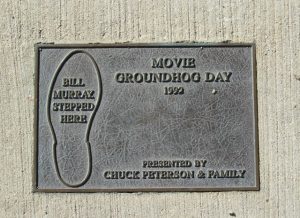 In commemoration of the 25th Anniversary of the filming of the movie "Groundhog Day," State Representative Steve Reick (R-Woodstock) has brought forward a House Resolution honoring the City of Woodstock's role in the filming of the iconic movie.
HR 97, approved in the House of Representatives today, recognizes the City of Woodstock and the Woodstock Square area as the primary 1992 filming location for the film, and applauds the volunteers who organize the community's annual multi-day celebration of "Groundhog Days" each February. "This movie was among the highest grossing films in 1993, and it remains a pop culture favorite today," said Reick. "People from across the country travel to Woodstock at this time every year to visit key filming locations throughout the Woodstock Square area, to watch free screenings of the movie and to enjoy the community celebration."
On the north side of the Woodstock Square, a plaque including a footprint and the words "Bill Murray Stepped Here" denotes the exact location where actor Bill Murray stood and stepped into a puddle of water in the street at the beginning of each day in the film. Other locations in the Woodstock Square area are also marked with signage denoting their significance in relation to the movie.
Dr. Brian Sager, Mayor of Woodstock, said the filming of the movie and the annual celebration that has ensued has had a tremendous positive impact on the community. "Woodstock was thrilled to be the location for the filming of the movie 'Groundhog Day' and enjoys annual celebrations of that event with visitors from many states as well as other countries," he said. "Each year we find renewed energy and enthusiasm for what it means to come together as a community in celebration of our hometown."
"Groundhog Day" was directed by Harold Ramis and starred actors Bill Murray, Andie MacDowell and Chris Elliott.